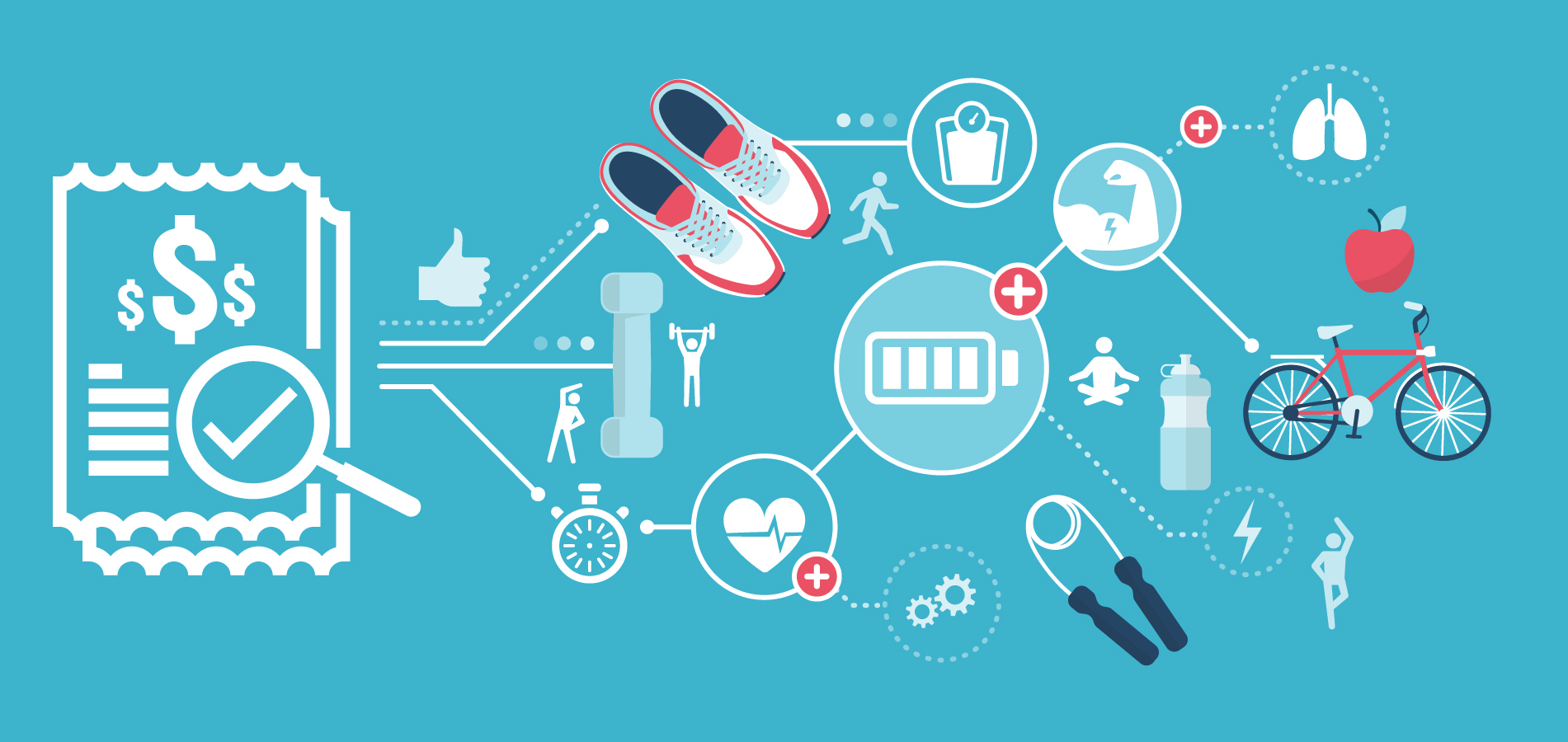 A Wellness Spending Account (WSA) encourages employee wellness and healthy living. These plans typically provide spending allowances for things like gym memberships, classes, relationship counselling, or that new pair of running shoes.
Unlike a Health Spending Account (HSA), Wellness Spending Account allowances are a taxable benefit, meaning they contribute to a plan user's total yearly taxable amount (or salary). As a result, eligible expenses are not dictated by the CRA. Instead, they are determined by the WSA provider or employer.
Take a look at these 5 categories of eligible expenses that you can claim with an Olympia Wellness Spending Account:
---
Wellness Spending Account Eligible Expenses
Nutrition
Nutrition counselling

Over-the-counter vitamins and supplements
Specialized food (carb free, Keto meals etc.)
Weight Management


Fitness
Fitness/Sports Equipment

Baseball bat, gloves
Bicycle helmet
Boxing gloves
Equipment rentals such as skis, skates, snowboards, canoe, kayak
Foam roller
Frisbee
Goggles
Golf clubs
Hiking boots
Hockey bag
Hockey pucks
Hockey sticks
Home free weights
Home treadmill
Life jacket
Outdoor bicycle
Personal hockey gear such as shoulder pads, shorts, socks, gloves, helmet, cage, elbow pads
Protective gear such as sports helmet, goggles, shin guards, wrist guards, mouthguards
Punching bag
Rock climbing shoes
Rock climbing harness
Running shoes
Ski hat, gloves, face mask
Snorkel gear

Courses/lessons/memberships


Club memberships
Dance lessons
Fun Run registration fees
Golf registration fees
Ice hockey arena rental fees
Marathon/race registration fees
Martial arts lessons
Parkour gym fees
Personal training fees
Self-defense course
Skating lessons
Ski passes
Ski/snowboard lessons
Sports team registration fees
Swimming lessons
Swimming pool entrance fee


Professional / Personal Development
Books/Software
Courses/conferences/seminars


Continuing education
Language training
Parking for course

Professional membership fee


Personal / Family Interest
Art classes/supplies
Horseback riding lessons
Music lessons
Pre-natal classes
Sign language classes


Mental Health
Art therapy

Hypnosis

Mindfulness

Reiki

Retreat Registration fees

Hiking retreat

Meditation retreat

Yoga retreat
---
Want to learn more about the Olympia Wellness Spending Account?
---

Here is a list of ineligible items under Olympia's Wellness Spending Account. These are commonly mistaken as eligible:
Wellness Spending Account

Ineligible

Expenses
Nutrition (Ineligible)
Blender

Body scale

Botox injections

Cooking classes

Cool Sculpt

Food journal

Food scale

Food storage containers

Juicer

Liposuction

Measuring cups/spoons

Nicotine gum/patches


Fitness (Ineligible)
Axe throwing class fees

Bear spray

Bow and arrow

Camping registration fees

Clip in shoes for stationary bike

Ear muff

Epipen

Epson salts

Fishing net

Fishing pole

Flip flops

Foot soaker tub

Gas to hockey games

Golf bag

GPS locator

Gym bag

Headband

Headphones

Hiking backpack

Hot tub/sauna

Hunting rifle

Ice/heat packs

Lock for locker

Massage oils

Nintendo Wii accessories/games

Nintendo Wii console

Personal massager

Reflective running/biking clothing

Ski jacket

Snow pants

Socks

Sports bras

Sports jerseys

Sunglasses

Sunscreen

Sweatshirt

Swim suit

Tape


Tens Machine

Towels

Waist belt for water

Water bottle

Wireless headphones

Work out shirts/tanks/t-shirts

Workout pants/shorts

Workout videos


Professional / Personal Development (Ineligible)
Art supplies

Driving lessons

Kids camp registration fees

Laptops/computers

Movie tickets

Pet obedience classes

Theater tickets


Mental Health (Ineligible)
Daylight lightbulbs

Essential oils

Meditation books

S.A.D Lightbox
Thanks for reading through these Wellness Spending Account eligible expenses (and ineligible). I hope it helped!
Improve employee productivity with a Wellness Spending Account:

Are you an existing Olympia Group client? Click here to sign up


Related Reading:
Health Spending Account vs Wellness Spending Account [Explained]
What is a Wellness Spending Account and how does it work?
Top 19 FAQ about an Employee Wellness Program in Canada
Do Employee Wellness Programs Actually Work?