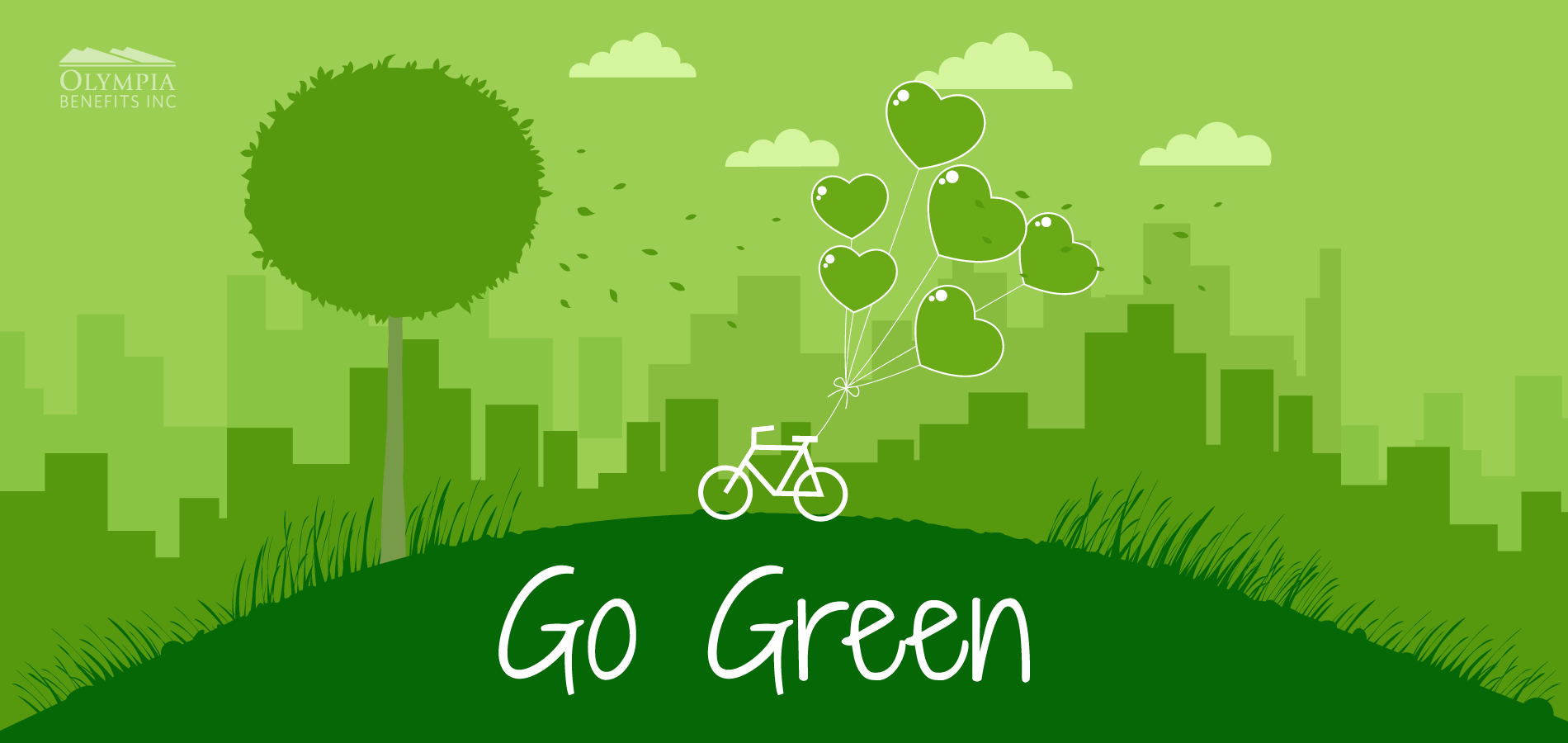 Interested in improving your sustainability through digital platforms? Discover digital marketing!
Equip yourself with the digital marketing tools to beat the competition. Download Olympia's FREE Marketing eBook today:
The benefits of going green for any small business
Sustainability and efficiency are not mutually exclusive. They often go hand in hand. Olympia aims to improve efficiency by introducing efforts toward sustainability. Digital claims is one such sustainable practice.
For Olympia, it takes several days to receive receipt(s) from a customer by mail. Afterward, it takes another several days for customers to receive their reimbursement cheques when using mail.
By going digital, we can avoid these time constraints altogether.
But don't just take our business as an example. Going green can help any small business. It can improve public relations, reduce costs that you didn't know you had, attract new customers, and most importantly, improve the workspace. As environmental consciousness grows, it's only naturally for businesses to adjust to its consumers. Companies can tap into this market by leveraging green products and services, or incorporating sustainable practice into existing offerings.
How to go green
Here are some things can consider if you want to go green. These are minor investments that many small businesses can take.
Zero waste
Many restaurants and food retailers are committed to zero waste policies. This means donating any leftover or unused food to local charities, food banks, and homeless shelters. Some are going as far as to re-creating their business models. Even if you are not in the business of food, you can make small changes to your office that reduce unnecessary waste.
Eco-friendly association
Your business can indirectly impact the environment by the way it operates and the brands it associates with. Remember, the lowest cost option is not always the most efficient. There has been a push towards long-term quality products over replacements. As well, many companies are opting to partner with eco-friendly brands for office furnishing.
Efficient operation
Incorporating insulated windows can reduce heat loss and reduce your overall electricity bill. This is efficient and smart, and just one of the ways a business can go green in their daily operations. You can also encourage or offer options for telecommuting. It saves money, time, and resources. Additionally, companies are shifting away from physical or paper-based advertising to online advertising (through digital platforms). Who could have predicted going green also meant going digital!
Our Resolution
Entering 2018, Olympia Benefits plans to improve our sustainable practice and reduce our overall impact on the environment. We are going to achieve this by streamlining our claims platforms. 2017 is our record for least paper claims. As customers are continually finding the ease of our digital platform, we increasingly encourage a switch from paper to online.
- Processed 47,000 paper claims. This represents 120,000 8.5" x 11" pieces of paper
- Purchased 20,000 envelopes and used over 95%
- Sent 11,000+ reimbursements by paper cheque
In 2018, Olympia aims to:
- Reduce paper usage by 50%
- Reduce envelopes to under 10,000
- Reduce cheques to under 5,000
Every year, we receive and send a large volume of paper through the paper claims process. Each claim we receive includes several documents. Every cheque that we send includes 2-3 pieces of paperwork. That might not seem like much at first, but also consider the envelopes and administrative paperwork involved with mailing cheques.
After factoring in the shipping costs, you'll come to the conclusion that this procedure is not so sustainable after all.
You can be a part of a greener Olympia by joining the digital frontier.
Our digital claims process is easy to learn, easy to use, and gets your money back faster. Best of all, there is no additional cost!
We hope you are able to incorporate some of these efficient and green practices into your own business!