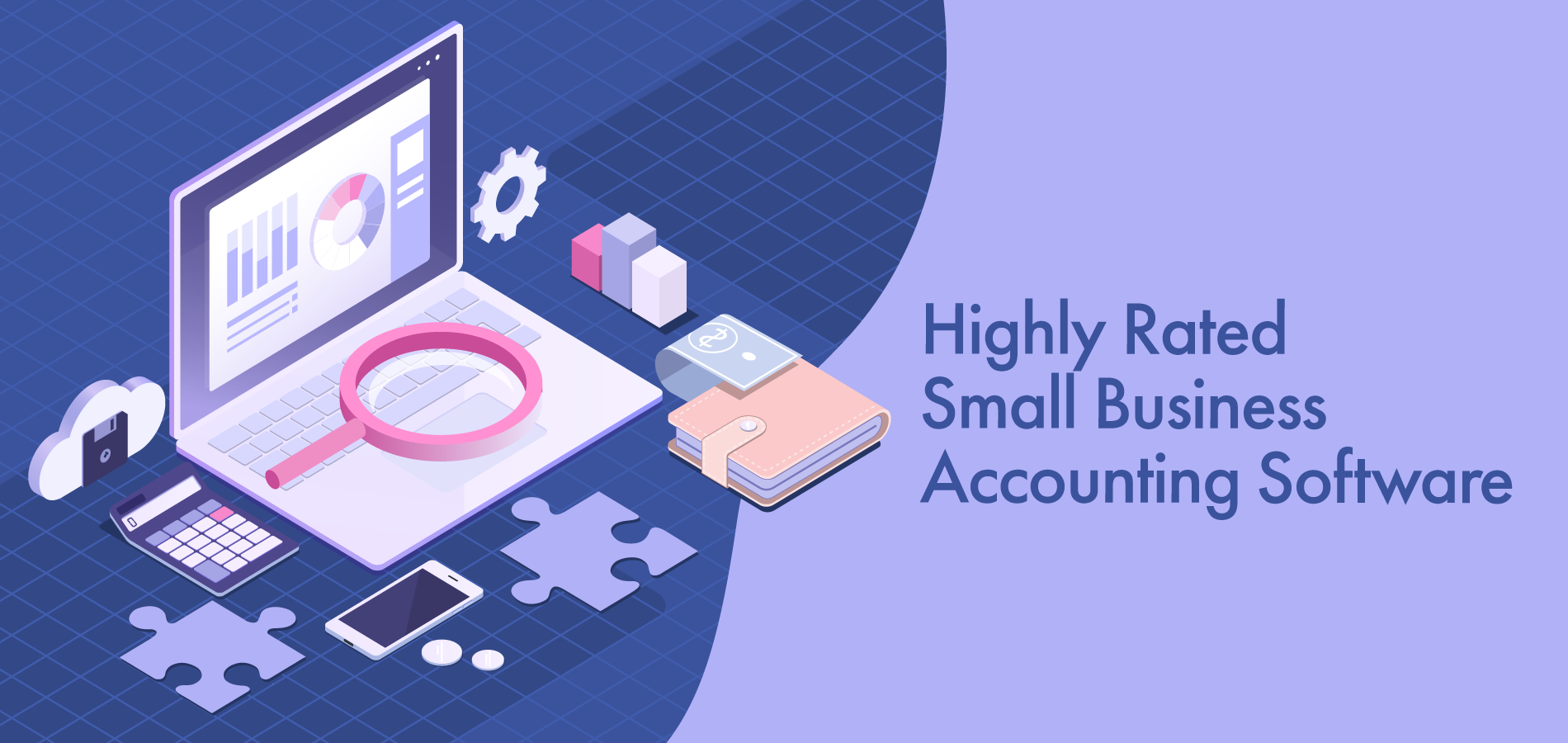 We've scoured the internet and found the top rated accounting and bookkeeping software. In this article, see a break-down of the top rated small business accounting and bookkeeping software, as well as useful apps small business owners may benefit from using.
---
There is a lot of software available to help small businesses manage their accounting and bookkeeping. Here, we've compiled a list of those with the highest ratings to help you with your research.
Accounting and Bookkeeping Software:

1. Intuit QuickBooks Online
Receipt capture, 24/7 chat support, and integrations with PayPal, Shopify, and Square make QuickBooks Online a leader in small business accounting software. All plans allow users to track income and expenses, send invoices, receive payments, run reports, send estimates, track sales and taxes, and capture and organize receipts.
More advanced plans allow you to track inventory, manage 1099 contractors, track time, and run full service payroll.

2. FreshBooks
If you send out recurring invoices, need time tracking capability, or run a subscription model business, FreshBooks may work for you. You can see where a customer opened your invoice, helping you avoid the "I never got it," excuse. FreshBooks integrates with many business applications and provides you with a single dashboard to manage your finances and accounting. Regular secure backups are included, and a mobile app allows you to keep track of your business 24/7.

3. Wave
Wave works well if you're operating as a freelancer, or have just a few employees. Most of its services are free, which includes invoice- and transaction-management. And all of your information syncs with Wave's software, so your bookkeeping is always up to date.
Note: If you're looking for built-in time tracking, inventory tracking, or project management, you'll likely need a different software.

4. Sage 50cloud
Sage works well for small- to medium-sized businesses. Sage sends invoices, tracks payments and expenses, and calculates what you owe come tax season.
Note: With Sage you cannot do time tracking, or use collaboration tools. Payroll with Sage is a separate product.

5. Xero
From your phone or tablet, Xero allows you to send custom invoices, track inventory, and create purchase orders to attach to bills. You can have financial performance reports sent straight to you, and connect you bank account.
If you need payroll services, you'll have to use them through Xero's partnership with Gusto. And if you value live support, this may not be the option for you.

6. Zoho Books
Known for its ease of use, Zoho helps small businesses manage cash flow and finances. Zoho offers excellent support, the ability to accept payments online, balance sheet creation, and an easy-to-read dashboard.

7. Tipalti
Tipalti helps you correct late payments, non-compliance, and administrative overload. Tipalti can streamline international payment processing in around 190 countries, automate your payment operations, and make sure you're tax compliant.

8. NetSuite ERP
NetSuite ERP aims to help businesses grow, "from pre-revenue through IPO and beyond." Their Enterprise Resource Planning (ERP) product helps businesses manage inventory, order management, accounting, human resources, and more. They integrate these functions into one system that's streamlined. For businesses that anticipate rapid growth, NetSuite ERP may be the option for you.

9. FreeAgent
FreeAgent helps with estimates and invoices, monitoring cash flow, keeping track or receipts, and keeping track of your time. You can connect FreeAgent to your bank account and view income performance and profitability.

10. Accounting Seed
Accounting Seed offers subscription or recurring billing options, has a secure and reliable API, and works with your company to link critical business applications and bank accounts for real visibility into the financial state of your business. It's a cloud-based platform, meaning you can log in anytime, anywhere. Accounting Seed can automate many tasks that tend to use up business owners' time.

11. AccountEdge
AccountEdge offers two versions of its accounting software, plus an ERP through its parent company, Priority. There is AccountEdge Basic which helps sole proprietors automate their bookkeeping, and AccountEdge Pro which is a full-featured accounting software for small businesses. Both are desktop-based and have a one-time fee. For remote access, a cloud collaboration tool is available for the Pro plan as an add-on.
CenterPoint Accounting from Red Wing Software has multiple editions of its accounting software for different types of organizations, including businesses, farms, nonprofits and municipal government. It supports an unlimited number of transactions, customers, suppliers and products, with no limit to the years of historical accounting data you can store. There are also payroll services available.

13. Hiveage
Hiveage is an online invoicing software for freelances and small businesses. With it you can create estimates and quotes, then convert them to invoices after client acceptance. Hiveage tracks time, expenses, and mileage. It allows you to accept online payments, which includes recurring payments such as subscriptions. All plans support unlimited clients and invoices.
14. Kashoo
Kashoo is an online accounting software that can handle invoicing, expense tracking, and double-entry bookkeeping on your computer, iPhone, and iPad. It connects to your bank accounts, accepts online invoice payments, generates reports, and offers collaboration features that let you share your books with your bookkeeper, accountant and business partners at no extra cost.
Other Useful Apps


1. Mile IQ
MileIQ is a mileage tracking app that automatically captures your drives (it runs in the background on your phone). You can then swipe right for business drives, and swipe left for personal drives. You can easily add details such as parking, tolls, and so on. You are sent a weekly report, which you can customize.
2. Hubdoc
Hubdoc extracts key information from your receipts, invoices, and bills to help you reduce date entry and filing. You take a photo of your receipt, invoice, or bill, allowing you to throw out the paper copy. You can also scan and upload documents, e-mail in documents, and more. This allows you to log-in to one program to see all your invoices, bills, and so on. Hubdoc integrates with Xero, QuickBooks Online, Bill.com, and more.
Looking for more Small Business Accounting tips? Listen to our free podcast episode: