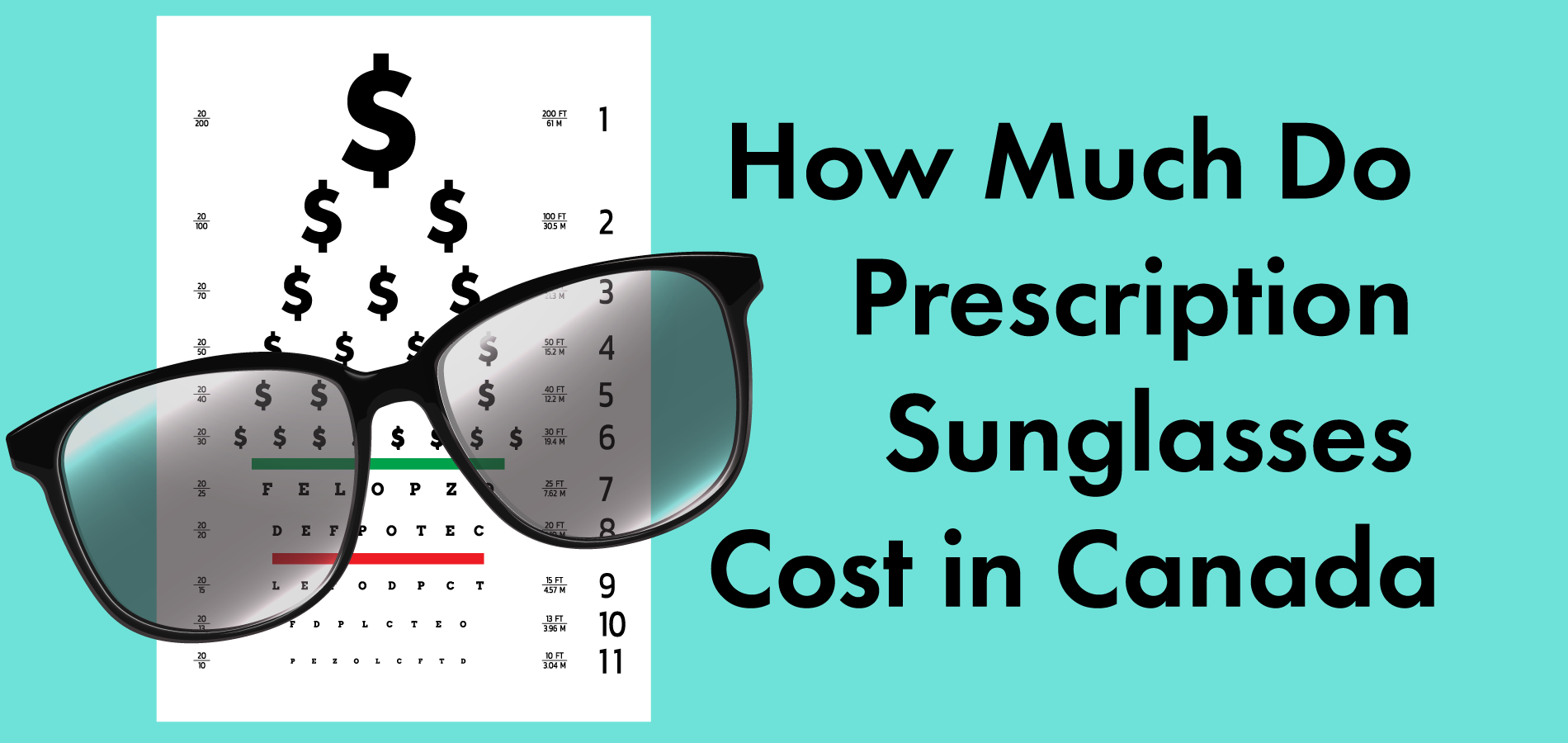 Prescription sunglasses are an option available to people who wear glasses for daily sun protection. Prescription sunglasses are available both from traditional optometrist offices and online retailers. In this article we will break down what to look for when purchasing prescription sunglasses and the costs associated with the different options.
---
Why Should You Get Prescription Sunglasses
There are 3 reasons to wear sunglasses:
Sunglasses may help slow the progression of cataracts, which occur with aging.

Exposure to the blue light from the solar spectrum has links with macular degeneration, a cause of irreversible vision loss.

Sunglasses shield our eyelids from exposure to the sun, which can help prevent skin cancer.
Where to Purchase Prescription Sunglasses
You can purchase prescription sunglasses at most optometrist offices. They can be purchased during your regular appointment, or you can stop in to discuss your options.

Online there are several options for purchasing prescription sunglasses. To do so, you'll need to know your prescription details and may need to take measurements of your face to ensure a good fit.

Certain brick and mortar retailers sell prescription sunglasses in-store.

In some cases you can purchase regular sunglasses and have your optometrist's office or a brick and mortar store and switch out the lenses for prescription lenses.
What to Look For
A purchase should include frames, nose pads and lenses. Some retailers may list frames and lenses as separate purchases.
Purchase lenses with "broad-spectrum" UVA and UVB protection; UVA rays progress signs and conditions of aging, UVB can cause cancer.
Darker lenses are not necessarily better, it is UVA/UVB protection that matters most. Dark lenses without UVA/UVB protection can damage the eye by causing the pupil to expand, allowing more light into the eye.
Broad-spectrum polarized lenses help reduce glare, allowing wearers to see into water where otherwise only surface glare would be visible.
Fit matters. Make sure sunglasses fit close enough to the face that very little "stray light" reaches the eyes from above or below without your eyelashes hitting the lenses. Look for broad arms to protect from "stray light" from the sides.
Look into the reputation of the retailer if you are purchasing from somewhere new. Make sure there are good reviews for both the lens quality and durability of the frames.
Lens Tints
Grey lens tints are all-purpose tints that evenly transmit colour. They are useful for bright conditions, daytime driving, and outdoor sports.
Brown lens tints absorb more blue light, making them idea for activities that have you moving between bright and low (shadowed) conditions, like golfing.
Mirrored lenses will be made of either a grey or brown tint. They can decrease the amount of light that passes through further, making them useful for extremely bright outdoor conditions, like those involving: sand, water, snow, and higher altitudes.
Additional Costs
If you haven't had an eye exam in some time, you may need to have one done to make sure your prescription is up-to-date.
How Much Do Prescription Sunglasses Cost in Canada?
Prescription sunglasses can range from $50-$600+.

The cost of prescription sunglasses will range depending on the strength of your prescription, the designer of the lenses, and where you purchase.

Certain online retailers sell prescription sunglasses from as low as $50, however be sure to consult online reviews before purchasing from an online retailer and research the company's reputation to ensure you are getting a quality product.
How to Finance Prescription Sunglasses
Consult your health benefits or insurance plan and see if prescription sunglasses are covered.

If you are a small business owner, consider claiming the cost of your prescription sunglasses under a Health Spending Account (HSA). An HSA turns after-tax personal medical expenses into before-tax business expenses.
Learn more about how an HSA reduces your health and dental expenses: