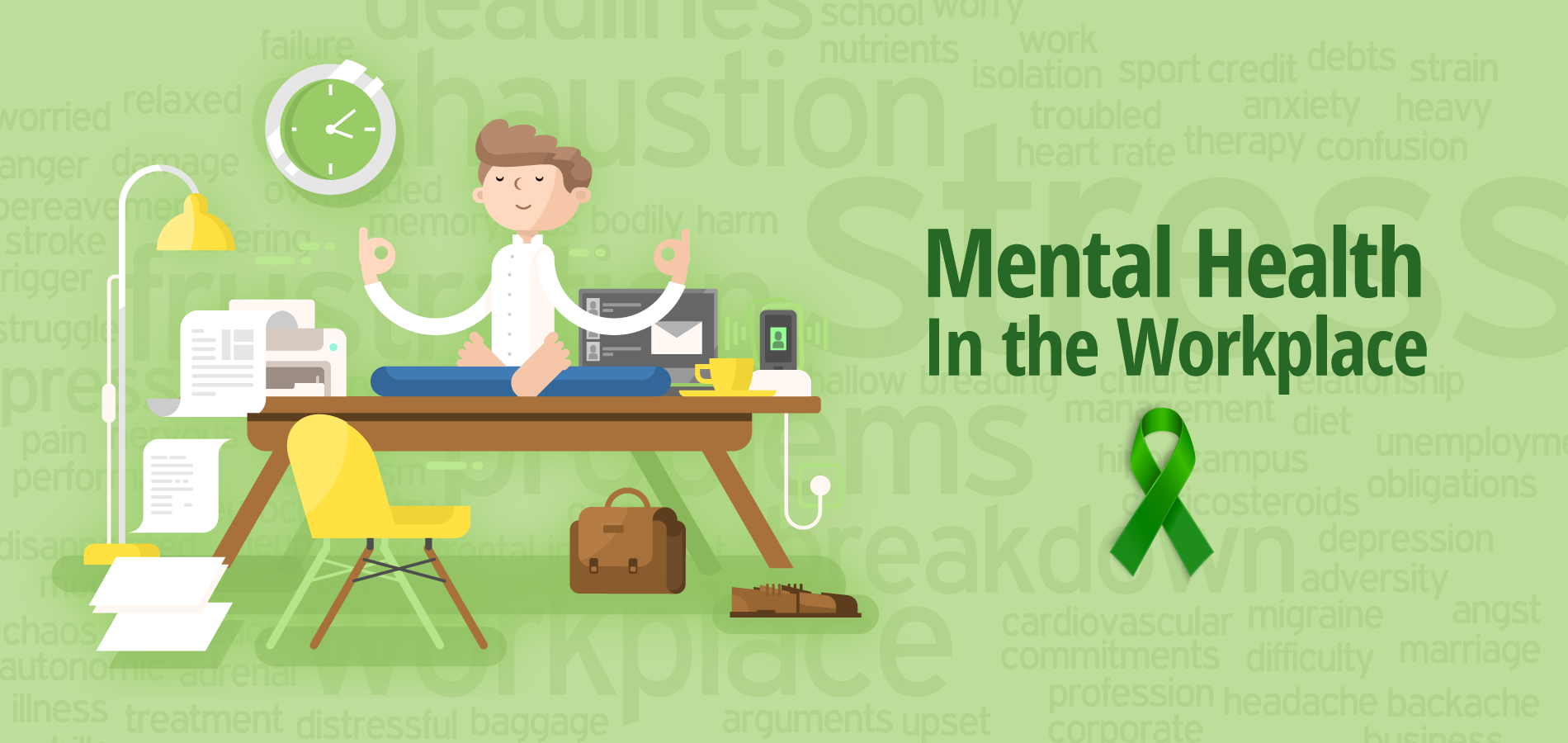 Mental Health Day is Oct 10, 2018.
Mental Health Awareness means recognizing that mental issues are as real as any physical ones. The workplace can lead to or increase mental health challenges, be sure to check in on employees and ensure they are doing okay.
As well as personal well-being, struggles with mental health have a significant impact on businesses of every size, and in every sector.
---
How prevalent are mental health issues in the workplace?
40% of Canadian employees report symptoms relating to depression and mental health.
About 50% of millennial –people in their 20s and 30s—report a mental health issue.
A recent Canadian study shows 82% of companies ranked mental health as being in the top three reasons for short-term disability.
The cost of lost productivity caused by mental health and substance use disorders is staggering for companies.
The price tag for absenteeism and presenteeism, when people at work are distracted, unfocused and unproductive, is estimated at around $6 billion Canada-wide.
Nowadays, mental health services are in heavy demand and it is difficult to get timely access.
It's time-consuming, confusing, and downright exhausting for anyone to try and navigate the health care system on their own, without expert guidance.
For the most part, overburdened public services have to focus on responding to an individual's crisis. In other words, they're all about putting out a fire when it happens.
As a business owner, why is 'putting out a fire' not enough when it comes to mental health?
The fact is this: Mental health problems including depression, anxiety, phobias, mood disorders and psychosis are chronic diseases.
This means they must be managed on a continuous and preventative basis, just like other chronic diseases, such as diabetes or heart disease.
To thrive, an individual needs personalized, responsive, ongoing support for their mental health and/or substance use disorders.
And on your own, that support can be difficult to access.
Rupert Case Management (RCM) Case Study
Rupert Case Management Inc. (RCM) received a call from the sister of a single mother who lives in a small town. This young woman, just one year sober, was extremely depressed and having suicidal thoughts.
When this mother turned to a 24-hour mental health crisis centre, she was advised to see her family doctor. When she went to the hospital emergency department, she was told to see her family doctor. When she went to her family doctor, he referred her to a psychiatrist who was not readily available.
Her family called Rupert Case Management. We mobilized to help this young mom see a psychiatrist.
Following our expert intake, we proposed a personalized treatment plan that would give this struggling mother the ongoing, comprehensive support she needs throughout the year.
Our plan included access to an integrated team made up of a social worker and a psychologist, as well as a psychiatrist.
With this ongoing support, the young woman could function well at home, and at work. What's more, her sister, who had her own work responsibilities, was relieved of the burden of care that affected her own performance.
When do I call Rupert Case Management (RCM)?
RCM is experienced in addressing all issues, including extremely complex physical and mental health cases for you and your family.
With membership, you have 365-day access when you need additional, highly-expert guidance or advice or when you're at a loss as to how to find an appropriate solution to a physical and/or mental health problem. Membership provides a detailed intake, a case review, and an action plan by RCM professionals and guided access to a la carte services.
Note: RCM
does not

replace your family doctor and is not an emergency service.

Rupert Case Management Inc. has been the established leader in healthcare advisory and management needs for more than 25 years. To learn more about RCM for mental health management or getting a second opinion, sign up for their webinar where they explain more on their services and costs: