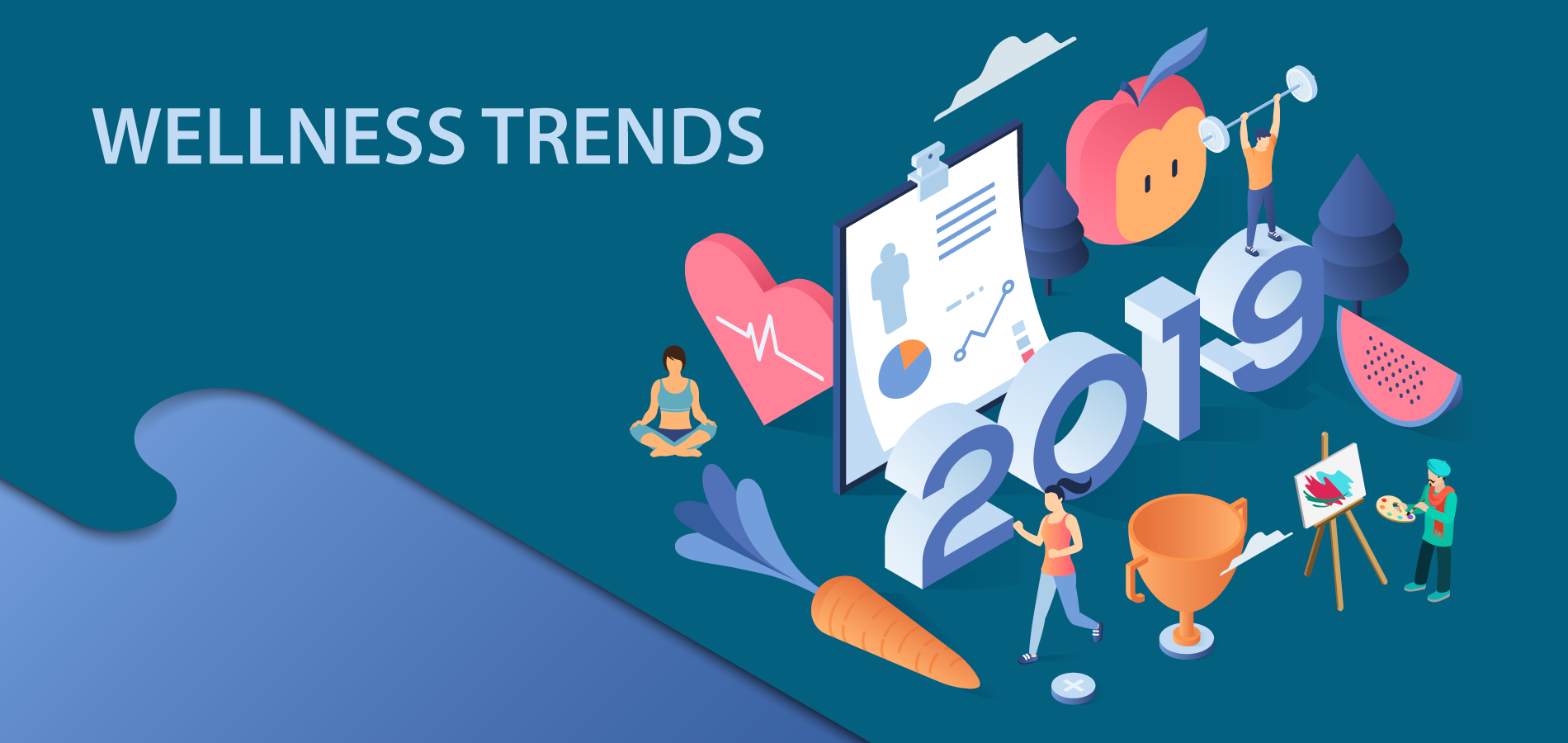 We're about half way into 2019. Here is a wrap up of some big wellness trends impacting Canada:
---
Cannabis based products
Following Canada's legalization of recreational marijuana last year, we are seeing more and more cannabis-based products entering the market such as THCs non-psychoactive alternative CBD. This variant is often found in the form of oil and is a great treatment for Canadians suffering from conditions like Multiple Sclerosis or even something less complex like back pain. Hemp oil is also getting a showcase at this time, with introductions in products like beer, skincare, and more. Canada is not the only one seeing the effects of legalization. Our neighbors down south are seeing a "relaxing" of laws across multiple states.


Fitness + Technology
Technology is melding with fitness to provide a better overall experience. Examples include spin classes with integrated music and video or participation in a live yoga session from home.


IV Treatments
Years ago, IV was limited to hospital use but today, we are seeing it for more than just that. Popularized by the media as the cure to a hangover, it also serves as a great benefit to anyone's wellness routine. IV treatments deliver nutrients straight to the system and allow for faster recovery and energy gain.


All Inclusive Wellness Plans
Gone are the days of scavenging for a plan which fits all your employees. Employers and providers alike are creating plans which have a 'one size fits all' mentality. One such example is a Wellness Spending Account. It's a taxable benefit for employees. Employers provide a limit for employees to spend on wellness related expenses. This flexible approach allows employees to choose as they wish while retaining cost control for the employer. For example, if employee A wants yoga lessons but employee B wants new ski gear, well, you can compensate them both with a Wellness Spending Account.


Telemedicine
To reduce the burden on the public healthcare system in Canada, as well as reduce wait times for Canadians, telemedicine is becoming a popular and prevalent platform. Many Canadians wait in line for hours for simple consultations like rashes, the common cold, or minor physical injuries. With telemedicine, you can consult with a doctor or nurse via video chat on your mobile device. There are several platforms out which offer this service.


Break away from the Digital world
Mental health is undoubtedly important, and it's no surprise that the digital world, particularly social media, has a detrimental effect. Paired with privacy concerns and a rising number of security issues happening on large scale platforms, users are moving away from spending as much time online. As a result, we are seeing an influx of apps that monitor social media use. It helps in the way people consume content and ensures that wellness is the top priority.


Meditation
For the past decade, there was a big focus on workouts and staying physically fit, but in the frenzy of mental health awareness, people are starting to become aware of mental workouts like meditation. Simple everyday actions like meditation help a person to hone in and reflect, which can help prevent long term negative mental conditions and effects.


Financial Wellness
Financial literacy is becoming an important topic in today's world as people are becoming financially aware at a much younger age. Many platforms are offering self service offerings which allow the user to take full control over their finances. This includes everything from budgeting, planning, investing, to insurance. Millennials and Gen Z are learning that they can become the drivers of their own financial wellness.


Fast Casual Health Restaurants
Within the past few years, we have seen more and more restaurants emerging with similar business models: fast casual health oriented restaurants. A notable example would be Freshii. These restaurants are not only healthy, but also focused on operational efficiency. Expect to see these business models appear across various cuisines over the coming years.
Authentic Branding
Consumers are starting to adapt to the online world. They understand poor practices and outright scams. With lowering brand loyalty and greater access to information, consumers weigh authenticity as a number one factor before making a purchase. Alongside this tangent, consumers want to buy from brands with strong initiatives like wellness, sustainability, and charitable endeavors.
Interested in starting a wellness program?
Listen to our podcast episode about Employee Wellness Programs by clicking here.
Or, listen to our episode about Leadership Well-Being Programs by clicking here.
How can a small business get started in digital marketing? Learn how:
---
Additional reading:
Do Employee Wellness Programs Actually Work?
The Ultimate List of Resources for a Small Business
The 7-Step Process to Getting Unbeatable Employee Benefits
Sources:
https://www.wellandgood.com/fitness-wellness-trends/
https://www.cbinsights.com/research/wellness-trends-2019/
https://www.forbes.com/sites/jonisweet/2019/01/04/top-10-wellness-trends-2019/