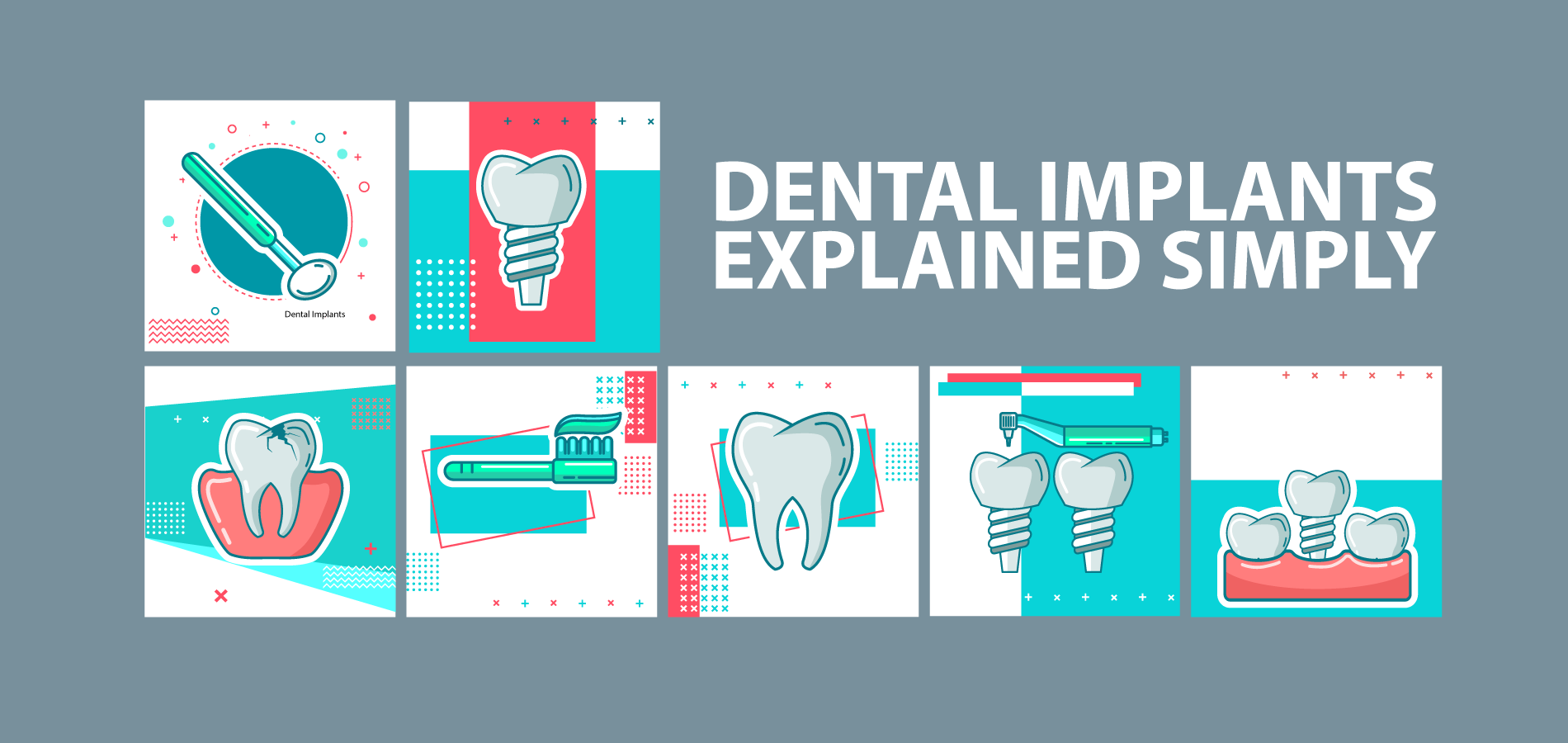 Dental implants are one solution to missing teeth. Some alternatives are partials or dentures. While dental implant procedures may be complex, the final product is built to be comfortable with the look and function of a real tooth.
Here's everything you need to know about the procedure, including the cost of dental implants. We based our research from North American sources. Please consult with a qualified dental professional to make an informed decision.
---
Table of Contents
Click to be directed to a section:
2. Who performs dental implants?
3. Who is eligible for the procedure?
4. How does dental implants work?
5. What happens after the procedure?
6. How much are dental implants?
7. How can I fund my dental implants?


1. What are dental implants
According to the CDA: "A dental implant is an artificial root made of titanium metal. It is inserted into the jawbone to replace the root of the natural tooth. An artificial replacement tooth is attached to the implant. The implant acts as an anchor to hold the replacement tooth in place."
There are 3 parts to each implant:
The crown (ceramic material which looks like a tooth)
The abutment (which attaches the crown to the screw)
The screw (which enters the root and bonds to the jaw bone)
Note: dental implants should hurt no more than a tooth removal. Patients receive local (or other forms of) anesthesia during the procedure.


2. Who performs dental implants?
The procedure is typically performed by a specialist in the area. They are commonly referred to as oral surgeons who specialize in placing implants or alternatively, periodontists.
There are also specialists known as endodontists which are responsible for root canal procedures.


3. Who is eligible for the procedure?
Eligibility for a dental implant works on a case by case basis due to a variance in each patient's general health, jaw structure, bone density, top vs. lower jaw, and other factors. It is best to consult with a professional for diagnosis.


4. How does dental implants work?
Diagnosis – your oral professional will examine your mouth with x-rays, CT scans, and other methods to determine whether implants are right for you
As a form of oral surgery, patients are typically sedated before the actual operation begins
In the first step of operation, your gum tissue above the jawbone is opened (via incision) and a small hole is created in your jawbone via drilling. The screw is carefully placed into the hole (or base of the bone). The gum tissue is stitched back into place and will typically take several months to heal. During the process, the implant will bond to the bone and gums.
In stage two, an abutment, or attachment post for the replacement tooth, is attached to the implant. Sometimes, this step and the previous step are done in conjunction.
After this, a replacement tooth is attached to the abutment via special dental cement and a small screw. This process can take several appointments.
In situations where patients are missing more than one teeth, a bridge may be created between dental implants.
---
Related Reading: Do I Need Private Health and Dental Insurance in Canada? [The Truth for Small Business Owners]
---

5. What happens after the procedure?
Dental implants require care like natural teeth. Your dentist or specialist will most likely schedule follow ups to ensure that the implants are working as expected.
As a note, most professionals will advise smokers to quit before the procedure and afterwards as well, because smoking has been known to cause bonding issues between the screw and jawbone. Additionally, it does slow down your healing. A higher implant failure can also occur to those who take immunosuppressants.


6. How much are dental implants?
In Alberta, Canada, you can expect to pay anywhere between $900 to $3000 for a single dental implant. Meanwhile, a full mouth reconstructive dental implant will cost you up to $96,000. These ranges depend on factors like:
Type of implantation
The professional who performs the surgery
Location of surgery
Implant material
Dental insurance or health plans
In another source, a dental implant can cost anywhere in the range of $1,500 to $6,000
In general, a reasonable dental implant cost is around the $3,000 benchmark after taking into consideration the cost of the crown (material) and the surgery.
Above all else, it is best to find a trusted and certified professional. I recommend that you get several quotes before going forward.
For a look at standard pricing on common dental practices, visit the 2019 Alberta Dental Guide for Dental Fees. This pricing guide refers specifically to Alberta, but may share similarities with other parts of Canada and the US.


7. How can I fund my dental implants?
Small business owners in Canada can take advantage of a Health Spending Account (HSA) to turn dental implant costs into a pre-tax expense through their corporation. This can equate to more than 50% in savings. Health Spending Accounts are also eligible for regular dental checkups and many other eligible health-related expenses (licensed massage therapy, physiotherapy, prescription glasses, prescriptions drugs, etc.)
Instead of paying for the medical expense personally, an HSA channels money through your business with the result being a payment using before-tax dollars. It is a 100% legal, CRA-compliant plan that many aren't aware of. It was built specifically to help business owners manage their health and dental costs. In many cases, it is more effective than health insurance especially for a costly event like dental implants.
If you are NOT a small business owner, you can file these costs under the Medical Expense Tax Credit (METC). It is a non-refundable tax credit applied through your personal tax return.
Determine your personal tax savings through our METC calculator.
Learn more about how an HSA reduces your health and dental expenses:
Sources:
http://www.cda-adc.ca/en/oral_health/procedures/dental_implants/
https://www.toothwisdom.org/a-z/article/dental-implants-are-not-created-equal/
https://www.foothillsdentistry.ca/dental-services/restorative-dentistry/dental-implants/
Note: Cost predictions are based on North American (Canada and US) dental standards.
Related Reading:
Which Is Better: Invisalign or Braces?
What are Invisalign Costs in Canada?