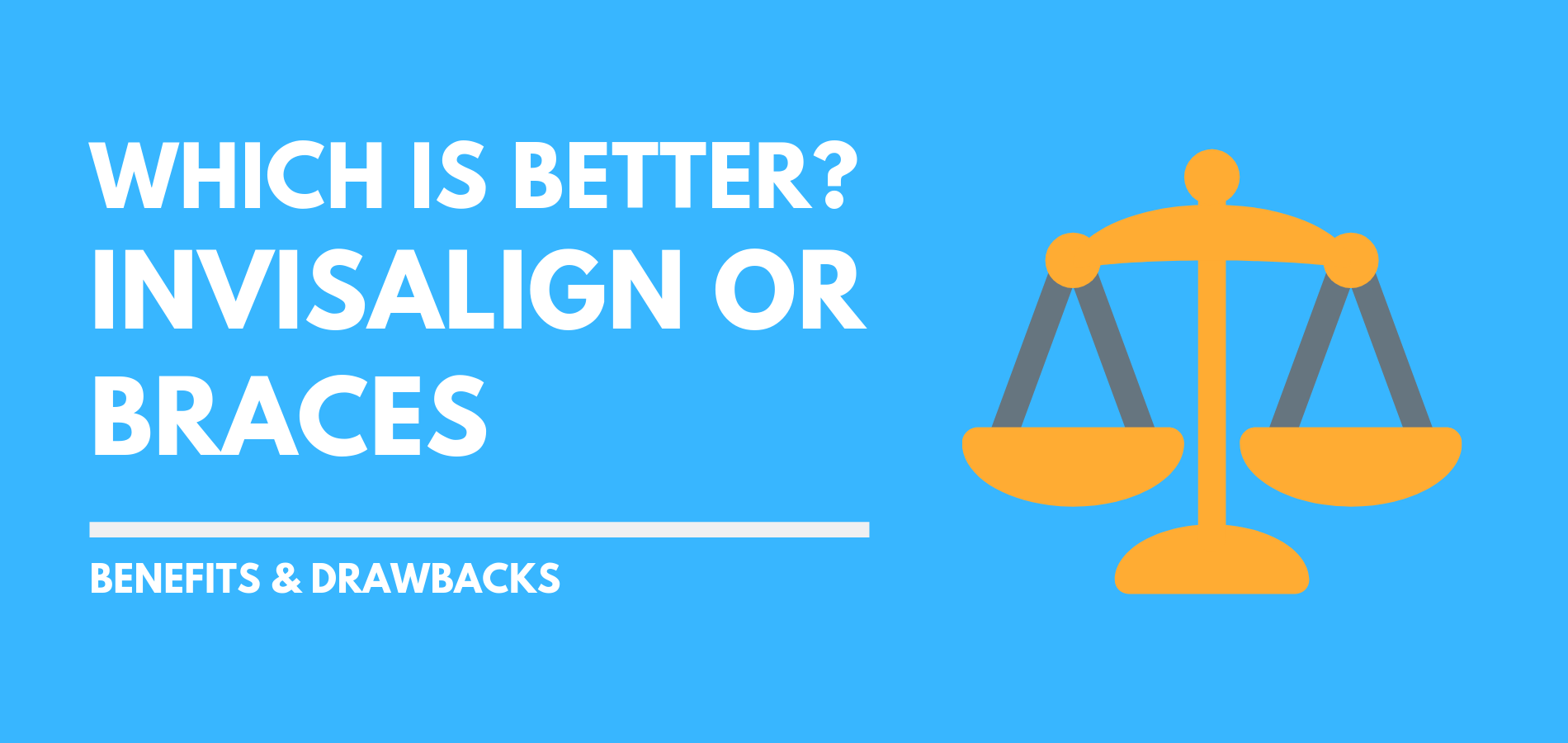 Deciding between clear teeth aligners, like Invisalign, or traditional braces can be difficult. Depending on your orthodontic needs, your orthodontist may suggest pursuing one option over the other. But, when both are viable options for you there are benefits and drawbacks to consider. Will your diet need to change? Will your oral health suffer? Which option is more comfortable? How often will you need to book orthodontic appointments? Will it hurt? Continue reading to explore the benefits and drawbacks of both Invisalign and traditional braces, and use this information to help guide your next orthodontic appointment.

---
Invisalign and traditional braces both present unique advantages and disadvantages that are worth considering. Using this information, and the expertise of your orthodontist, choose the treatment style that works best for your lifestyle, comfort levels, treatment goals, schedule, and age.

What are the benefits of Invisalign?
Removable: One of the top reasons many people consider Invisalign over traditional braces is the ability to remove the trays for eating, brushing your teeth, and flossing. This makes it easy to keep your teeth healthy during the treatment, and to continue with your current diet.
Comfort: For many, the smoother texture of Invisalign means less gum and cheek irritation.
Gentle tooth movement: When compared to traditional braces, Invisalign exerts less force on teeth and therefore patients may experience less pain after adjustments.
Aesthetic: It's all in the name - Invisalign is almost invisible, meaning many people won't even notice you are wearing them. If you have an important meeting or are taking a photo you don't want the trays in for, you can remove the trays and everyone will be none-the-wiser.
Effective: Approximately 70% of orthodontic patients can currently be treated with Invisalign, and in some cases Invisalign is chosen as the more effective solution.
Fewer office visits: As an Invisalign patient, you can expect to attend about half as many orthodontic appointments as someone with traditional braces. If you're a working professional that finds it difficult to take time off work, this may be a time-saving option for you.
Shorter office visits: According to orthodontic websites, Invisalign appointments are typically 15 minutes versus 45 minutes for traditional braces. While these times may vary depending on the office, overall you can expect shorter, easier to schedule appointments.
No dietary restrictions: No more trouble foods! While traditional braces come with a list of unsuitable foods, Invisalign is removed for eating, meaning you can continue to eat the foods you love (yes - even popcorn!).
No emergency appointments: Without any small breakable components Invisalign won't break, snap, or poke, meaning no emergency trips to your orthodontist.
Digital smile simulation: Certain orthodontic offices are able to take a 3D scan of your teeth and use a digital simulation to show you what your teeth will look like with Invisalign.
What are the benefits of Traditional Braces?
Successful for just about anyone: Traditional braces are tried-and-true, with success seen in just about any orthodontic treatment. Whether is involves minor tooth movement or complex bite alignment, traditional braces are effective.
Non-metal options: While most people still think of traditional metal braces as only being the only option, traditional braces now also come in non-metal options, like tooth-coloured ceramic braces and low-profile wires that aren't as noticeable against teeth.
Suitable for all age ranges: While Invisalign may not be suitable for very young patients, or more complex cases, traditional braces are suitable for every age and stage of tooth development from 7+.
More flexibility: In the case of young patients, whose mouths are constantly evolving, traditional braces offer more flexibility in terms of adding additional appliances (space maintainers, palate expanders, and so on) and addressing orofacial development in children and adolescents.
What are the drawbacks of Invisalign?
While being able to remove the Invisalign trays is seen as a "pro" for many, consider that a successful treatment depends on you wearing the trays for at least 20+ hours a day. If you don't closely follow this rule, Invisalign won't work. In contrast, traditional braces are glued to your teeth and working 24 hours a day from the moment you get them until your treatment is complete. If you would have difficulty remembering to wear the trays, or they aren't suitable for your lifestyle, Invisalign may not be the right option for you.
What are the drawbacks of Traditional Braces?
There are a few drawbacks of traditional braces that are worth considering. If aesthetics are a concern even low-profile options might not be right for you. Traditional braces can be difficult to keep clean, which can cause buildup and tooth discoloration, and they come with a list of dietary restrictions. Finally, there the possibility of appliances irritating the mouth, or breaking altogether, which can mean more trips to the orthodontist.
S

o, which is better?
Whether Invisalign or traditional braces will work better for you will depend on your orthodontic needs, lifestyle, budget, and goals. Consider your aesthetic preferences, daily routine, anatomical concerns, and age when discussing your options with your orthodontist. Whichever path you choose, you'll be beaming ear-to-ear with your new pearly whites!
How to Lower Your Costs for Orthodontic Work
Once you've decided to pursue orthodontic work, it's worth considering your payment options.
Small business owners in Canada can take advantage of a Health Spending Account (HSA) to turn their orthodontic expenses into a pre-tax expense through their corporation. This can equate to more than 50% in savings. An HSA is a tax-free benefit applicable to single person businesses, self-employed contractors, or a small business with 2 or more employees. A Health Spending Account is typically the most cost-effective method.
If you are NOT a small business owner, you can file these costs under the Medical Expense Tax Credit (METC). It is a non-refundable tax credit applied through your personal tax return.
Determine your personal tax savings through our METC calculator.
A third alternative is to claim through an existing health and dental insurance plan. Coverage will depend on your plan and provider. In most cases, you will have to determine maximums, restrictions, deductibles, copay and other terms.
Read why private insurance is not your best choice.
Lower orthodontic costs with a Health Spending Account:
Related Reading:
What Are Invisalign Costs in Canada
Everything to know about Root Canal Treatment in Canada
Laser Eye Surgery Cost in Canada - Guide
5 Things to know about IVF Costs - Guide