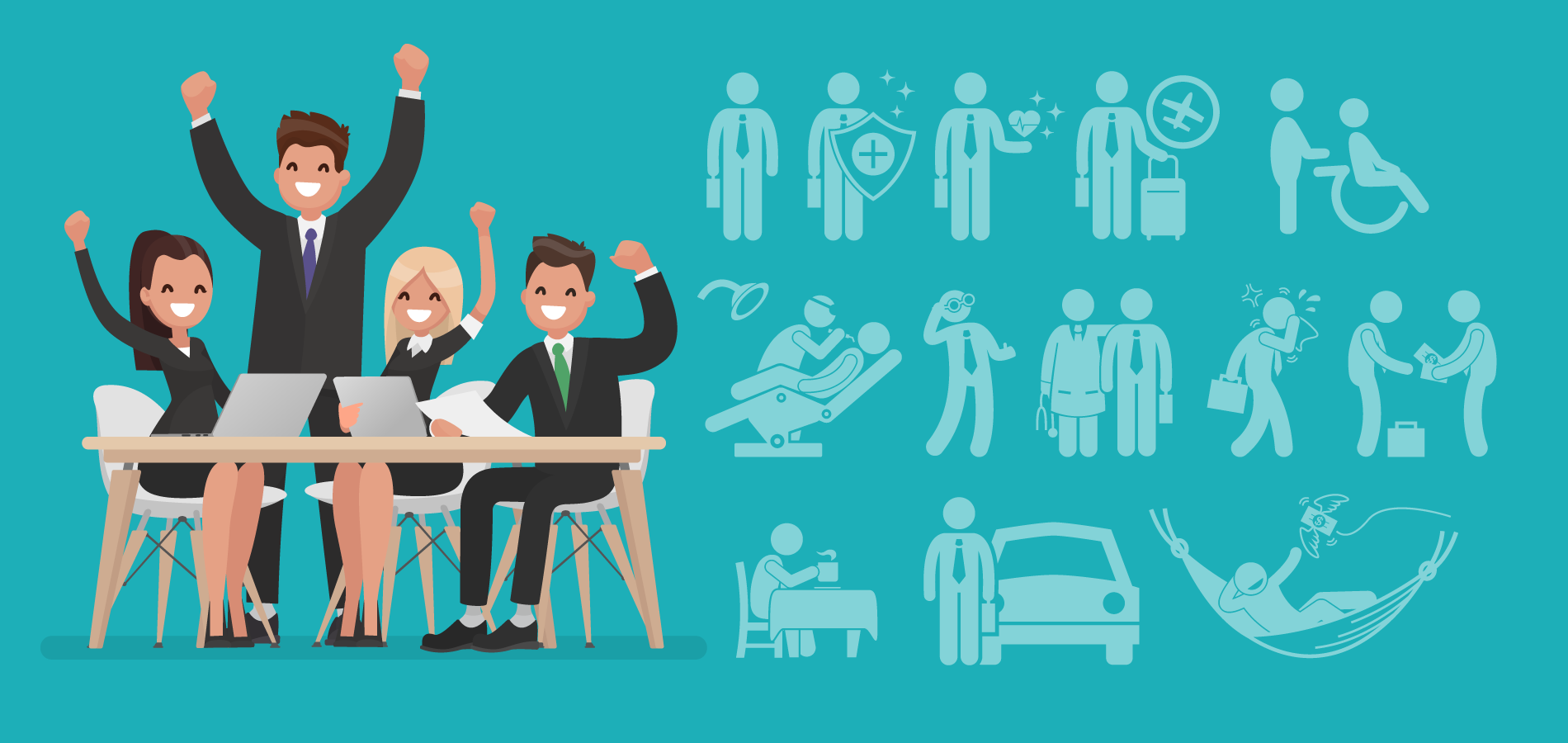 Employee benefits are non-monetary compensations provided to employees on top of their salaries and wages. These offerings are becoming the norm in many workplaces, as opposed to years ago, when it was the exception. Today, a competitive employee benefits package is flexible and has the employee's values in mind. Your offerings are important because they can have a significant impact on employee engagement, productivity, retention and recruitment. After all, employees spend the majority of their day in the office.
---
What is trending for employee benefits in 2019?
In 2018, Canada is one of the most diverse places to live, which translates to a diverse workforce. As a result, a trending topic for employee benefits is customization. With diversity comes differences. For the employer, this means providing benefits and perks which can work for different needs.
These flexible benefits allow employees to pick and choose what works best for them. Examples include telecommuting (choose where to work), flexible schedules (when to work), health spending accounts (how, what, and where to spend your health benefits allowance), and more.
While employee benefits have a track record for boosting employee morale, it is still dependant on the employer/employee relationship. In order to provide these types of employee benefits, there must be a mutual level of trust.

Below is a comprehensive list of employee benefits for a small business:
NOTE: Some benefits may fall under several categories. To avoid confusion, I have chosen not to duplicate any benefits.
Health-related Benefits
Canada's public health plan can't cover all of your medical costs. That's why many companies are implementing an employer-sponsored health plan for their employees. These are some options for providing vision, dental, and extended health coverage:
Health insurance
Health Spending Account (HSA) or also known as a Private Health Services Plan (PHSP)

Many small businesses find that extended health coverage can be costly if financed on a fully insured basis (through a traditional health insurance plan). If this is the case for you, a suitable alternative is a Health Spending Account (HSA). It is a customizable tax free benefit designated for you and your employees, to spend on whatever eligible medical expenses you desire.

Wellness Spending Account (this is a taxable benefit which designates an allowance for employees to spend on their wellness, such as a gym membership, nutrition, athletic attire, yoga, etc.)
Basic coverage of these 4 products (below) are often put in place by employers to protect employees and their families in the case of a catastrophic event. Plans may vary depending on the provider.
Critical Illness
Accidental Death or Dismemberment
Long-term Disability Insurance

Employees may be asked to provide full or partial payment for coverage under this plan (voluntary)

Personal Benefits
Maternity, Paternity, and Adoption Leave
Employee assistance programs


Private consulting services for employees dealing with personal issues
Services are usually offered over the phone or in-person

Short-term disability insurance
(Continued) education and training reimbursement
Opportunities for advancement

Retirement Benefits
Retirement Plans such as a Group RRSP or pension
Employee Share Ownership Plan

Flexible Benefits
Telecommuting / remote work
Flexible schedule and work hours
Flexible dress code
Paid time off / paid sick days

Creative Benefits / Perks
These types of benefits may be offered depending on your business and/or industry of work.
Office ergonomics (adjustable desk, table, seat, etc.)
Profit sharing
Bonuses
Free meals
Company car use
Stock options
Childcare
Gratuity
Commission
Paid housing
Company-specific holidays
Product discounts

Student loan repayment assistance

Transportation reimbursement
Corporate social events
Employee referral bonus
Promotion panels

Which employee benefits should I offer?
I hope you discovered some different types of employee benefits that can apply to you. The options are limitless. Companies still offering a traditional benefits package may find it hard to recruit top talent. At the end of the day, employee benefits are an investment. To make the most out of your investment, ensure that your employees are using their benefits.


Employee benefits can be affordable when you choose the right plan and provider. Instead of your typical insurance plan, consider a Health Spending Account. Unlike insurance, a Health Spending Account is a tax plan focused on minimizing health expenses for you and your employees: