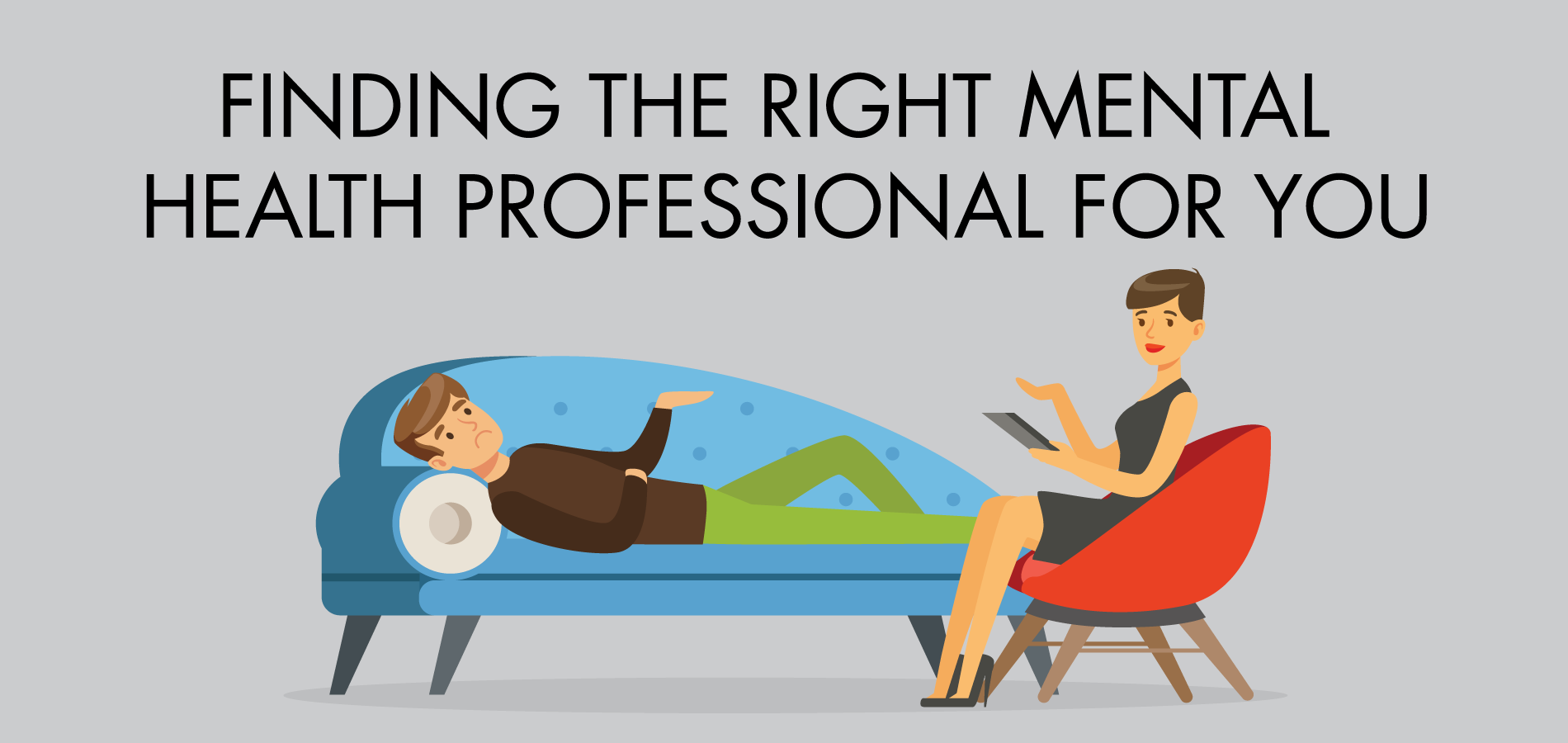 Feeling overwhelmed? Don't worry, you are not alone. Looking for mental health help is a step in the right direction but it's important to choose the right treatment. Within the industry, many professions target different aspects of mental health. In order to find the right mental health professional for you, learn about the specializations and benefits of each. Specifically, whether you are better suited for psychiatry, psychology, therapy, or counseling.
---
When should you seek a mental health professional?
While there is no indefinite indicator to visit your local mental health professional, there are some telling signs:

Chronic mental health illness: interfering with daily life and well-being

Feelings of anger, anxiety, helplessness, or depression: both short term and long term issues can be permissible for a visit

Compulsive or addictive actions: your actions are a detriment to yourself and others around you

Excessive emotions: when your feelings overwhelm you in daily life such as worrying excessively

Nothing seems to help: getting a professional second opinion is a great change of pace


Understanding mental health treatment
There is no one size fits all solution when it comes to treatment, but you should know what to expect based on the provider you visit. In short, psychiatrists are able to prescribe and offer medical treatment based on both psychological and biological viewpoints. Psychologists provide psychotherapy; clinical diagnosis based on psychological patterns and behavior. Counselors and licensed therapists are great for short term help on a specific circumstance.


When to see a psychiatrist?
The primary benefit of psychiatrists is their ability to write prescriptions because they are medical doctors. As a result, many treatments are based on the management of medications. Psychiatrists can provide both biological and psychological assessments, whereas a psychologist only focuses on psychological factors. In Canada, patients commonly find psychiatrists through a referral from their doctor. Be warned, psychiatrists have much longer wait times (up to one year) than other mental health professionals.
It is common for licensed psychologists and psychiatrists to work together as they each bring their own specialties to the table.


When to see a psychologist?
Psychologists work primarily with a person's behavior and patterns of thinking.
They use scientifically proven methods to determine a patient's clinical diagnosis. It is common for psychologists to collaborate with psychiatrists on a treatment plan that utilizes both psychological and medical treatment.
In practice, psychologists take on research roles or consult patients and doctors. They specialize in topics like mental health, developmental disorders, and relationship counseling.
The pricing can depend on the provider, the province, and their specialization. It's best to choose a psychologist with prior experience related to your circumstances.


When to go see a counselor or therapist?
Therapy and counseling are very broad terms as many different professions in the mental health field fall under them. They range from life coaches and social workers to psychologists and psychiatrists. As you know, psychotherapy is a type of therapy that psychologists perform. Counseling typically refers to the less diagnosis-based professions, such as life coaches which focus on providing support and guidance as opposed to diagnosing a condition.


Psychotherapy vs counseling
In short, counseling is aimed at specific issues such as addiction with a short term approach while psychotherapy is better suited for long term counseling with a broader, behavior based treatment. Specifically, looking at the underlying causes (patterns of thinking) behind your behavior.


Choosing the right mental health professional
Above, you learned the varying types of providers and treatment for mental health. It's important to take this knowledge and apply to yourself to find the best possible route to recovery.


Funding your mental health treatment
In Canada, small business owners can use a Health Spending Account (HSA) to turn mental health costs (from qualified practitioners) into a pre-tax expense through their corporation. This can equate to more than 50% in savings. Health Spending Accounts are also eligible for many common medical expenses (licensed massage therapy, physiotherapy, prescription glasses, prescriptions drugs, etc.)
Instead of paying for the medical expense personally, an HSA channels money through your business with the result being a payment using before-tax dollars. It is a 100% legal, CRA-compliant plan that many aren't aware of. It was built specifically to help business owners manage their health and dental costs. In many cases, it is more effective than health insurance especially for an expected mental health appointment.
If you are NOT a small business owner, you can file these costs under the Medical Expense Tax Credit (METC). It is a non-refundable tax credit applied through your personal tax return.
Determine your personal tax savings through our METC calculator.
Learn more about a Health Spending Account:
Listen to our podcast episode about Mental Health in the Workplace: