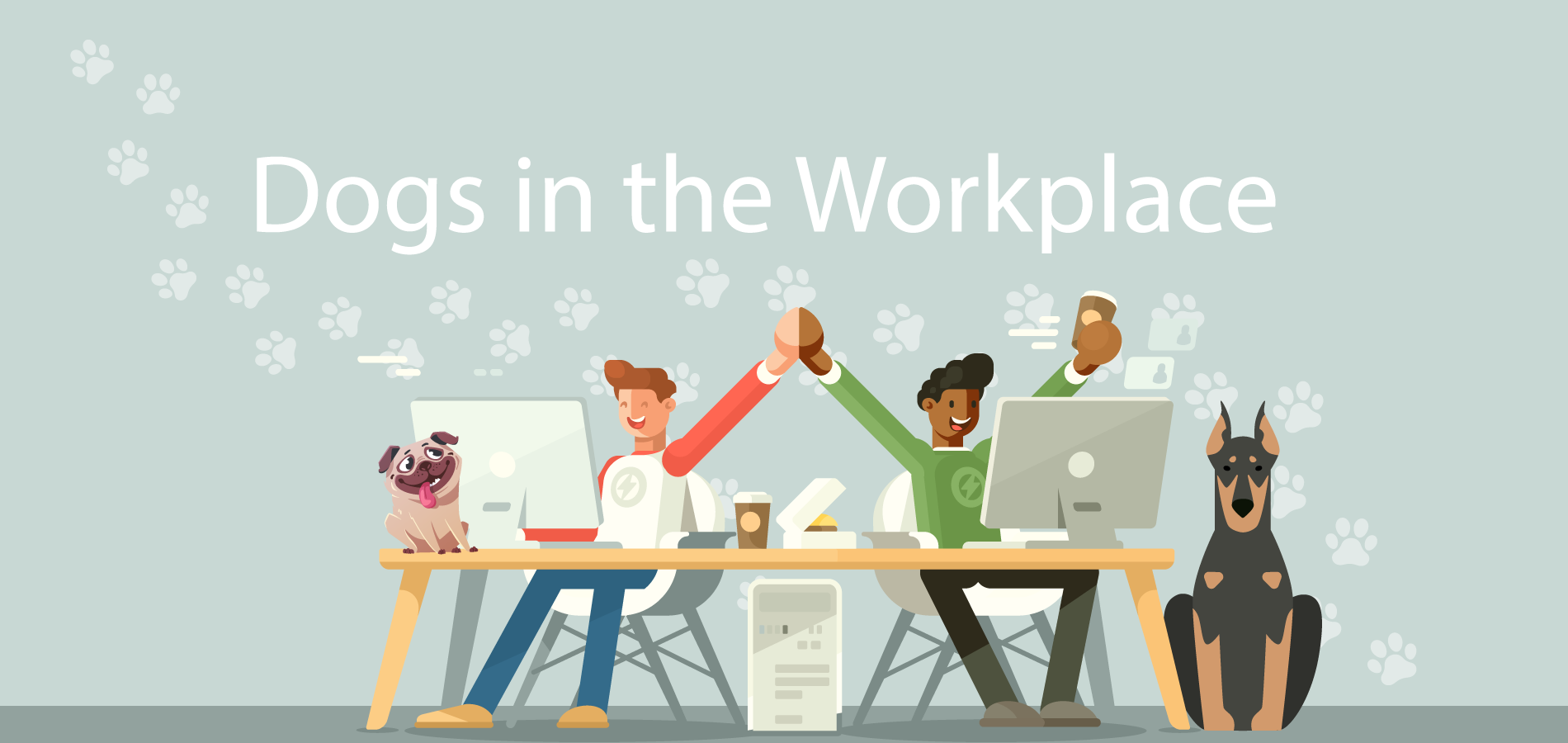 North American employees have spoken and they want more dogs—and it's not just for the cute factor. Recent studies demonstrate dog-friendly workplaces can enhance productivity, drive collaboration, and most importantly make us all happier at work. With dog-friendly workplaces on the rise, it's no surprise that companies nationwide are scrambling to create more dog-friendly offices to support their teams.
---
Dogs alleviate workplace stress
Given the intensity and stress created in many workplaces, it's not surprising that employees seek out emotional support at work. In fact, a survey conducted by Rover.com revealed 25% of pet parents who bring their dogs to work value their emotional support as the number one reason they like to keep a dog nearby.
And that emotional support is powerful: In a study conducted by NPR, office workers showed significantly lower stress levels when they were allowed to bring dogs to work. At Rover's own dog-friendly office, we've found dogs aren't just a stress-reliever: they may be a stress-preventer.


Dog-friendly offices result in more collaboration and trust
Dogs in the workplace inspire people to reach across teams and work more collaboratively. "Social networks that are developed based on shared concern over animals can lead to increased human-human interaction," Tedeschi explains.
So bringing a dog from your cubicle into a shared space encourages interaction and camaraderie. At Rover, puppies strut across the conference table in the middle of meetings, and playdates are a great excuse for recruiters, engineers, and social media mavens to get together and chat—which can result in great ideas that wouldn't have otherwise bubbled up. So spending time with dogs doesn't just make us feel better—it helps us work better.
In fact, Central Michigan University released a study showing that bringing dogs in the workplace resulted in increased trust and collaboration between coworkers. And according to Rover.com, 45% of dog owners working in dog friendly offices say they are more likely to approach a coworker to chat if that coworker has a dog with them.


Why more companies are becoming dog friendly
Employees are expressing increased interest in dog-friendly benefits and perks, from pet PTO to dog adoption subsidies. And it's for good reason: Dogs improve people's moods, decrease stress, and enhance the workplace.
"Studies have shown that having a dog facilitates the development of social contacts, which may increase both physiological and psychological human health," says Rover's Head of People, Jovana Teodorovic, an expert on dog-friendly workspaces. "Working with dogs is good for your career: If you're feeling good, you're more likely to enjoy work—and personal and professional success."


10 tips for creating a dog-friendly company
Jovana Teodorovic has learned the ropes by scaling Rover's dog-friendly workspace from 150 people and a few dogs to over 500 people and many more furry pals. She advises, "Any CEO considering allowing dogs in the workplace should put together rules and guidelines for employees." We assembled these guidelines and created this expert-sourced list of tips so you can create a dog-friendly office where people and dogs are comfortable, happy, and accident-free (well, most of the time).
Lease a dog-friendly building
Find a workspace close to a park
Create a simple application process to ensure dogs are office-ready
Use dog gates to create smaller play spaces
Provide easy access to clean water, treats, poop bags
Keep dogs on leash
Establish colorful tags that signal dog temperament
Invest in tag silencers
Make a plan for addressing problems
Keep rug cleaner and sprays on-hand


Lease a dog-friendly building
Work with your landlord or leasing agent to set expectations and ensure your existing office space allows dogs. Agree to parameters around how many dogs you'll allow in the space at a time.


Find a workspace close to a park (or create your own)
If you're looking for a new space, find a building in close proximity to parks, rooftops, green space, or other dog-friendly spots for potty-breaks and exercise. If you can't find one, make one! Dedicating an outdoor area for dog playtime and potty breaks will help you stand out from the pack.


Create a simple application process to ensure dogs are office-ready
Once an employee has been with the company for at least 30 days, provide them with an application that ensures their dog is healthy, flea-free, and ready for work. Applications should include:
A record of their vaccinations (DPP)
A record of a recently passed fecal test
The name of their flea medication


Use dog gates to create smaller play spaces
Establish penned-in areas around desks and workspaces. This allows dogs to roam off leash in smaller designated areas; make new friends with their desk mates; and gives pups and people plenty of room to play and spend quality time together.


Provide easy access to clean water, treats, poop bags
Ensure access to water bowls so all office dogs can always stay hydrated. And provide your team with plenty of poop bags—your neighbors will be glad you did! Having dog treats available is a nice touch. Treats help people meet and play with new dogs. Be sure to share info about the treats' ingredients for dogs with food sensitivities.


Keep dogs on leash
In a dog-friendly office, humans are still in control of the space. A leash policy keeps dogs close to their parents. Whenever a dog leaves their gated area, they should be on leash to avoid accidents and any unexpected encounters.


Establish colorful tags that signal dog temperament
Like people, dogs have distinct personalities. Some dogs are outgoing and others are shy. Create colored tags that attach to a dog's leash and signal whether the dog is immediately friendly, or if people should ask their owner first before approaching.


Invest in tag silencers
Provide employee dogs with tag silencers. You'll be amazed how much more focused your team becomes when there's no jingling collar in the background.


Make a plan for addressing problems
Some dogs take to an office environment naturally. Others may bark or have difficulty adjusting. Put a plan in place for how to address dogs that become distracting or disruptive. Plan to work with pet parents to help them through those situations, and empower your team with an easy process to report any ongoing issues so you can swiftly address them.


Keep rug cleaner and sprays on-hand
Let's face it: Accidents happen. Luckily, there are excellent sprays available to swiftly clean up so you can get back to work (and play).
With the right resources in place, a dog-friendly workplace can bring more joy, friendship, and collaboration to your team. Best of luck to you and your team creating and enhancing your dog-friendly office. Be sure to check out Rover's ranking of the nation's top dog-friendly offices.
---