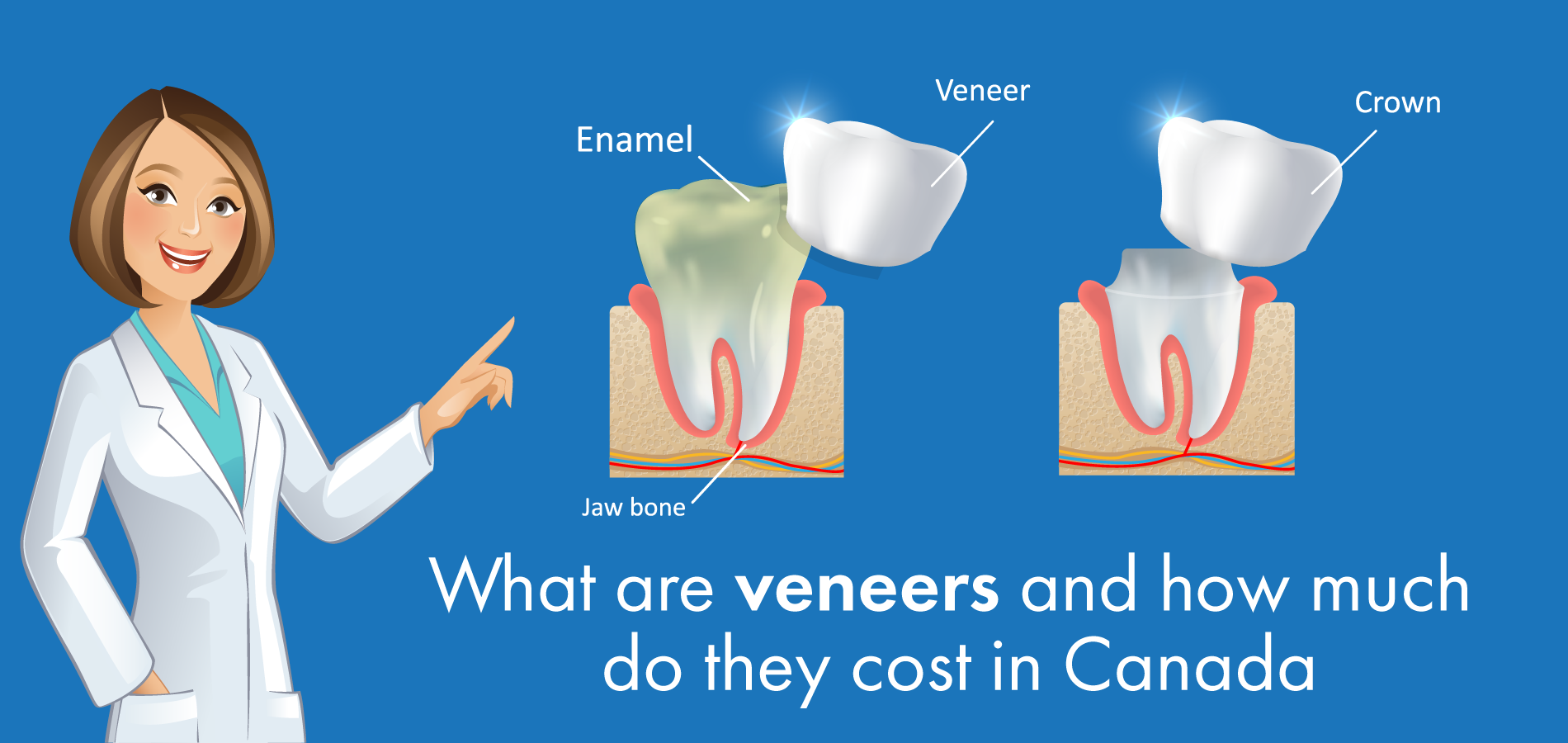 Veneers are a cosmetic dental treatment to improve the function and look of your teeth. In general, dentists will either use composite or porcelain as a material in the veneers, which are placed in front of your teeth. The benefits are an improvement in the shape, angle, color, and size of teeth. However, the treatment is not limited to only aesthetic concerns, as the change in shape and angle can benefit a person's chewing.
Here's everything you need to know about the operation, including the cost of veneers in Canada. Our research is based on North American sources. Please consult with a qualified dental professional to make an informed decision.
---
Table of Contents
Click to be directed to a section:
2. Who performs the veneer treatment?
3. Who is eligible for veneers?
5. What happens after the procedure?
1. What are veneers?
Veneers are thin shells composed of porcelain or composite resin that are permanently bonded to the front part of teeth. In order to bond to your teeth, the enamel (and sometimes deeper part of the tooth) is removed. This process is irreversible and requires local anesthetic usually in the form of freezing. Most veneer procedures involve operation on most if not all front teeth to create a symmetrical smile. Unlike crowns, bonding, or implants, the veneers only replace the front portion of your tooth. Depending on the material and maintenance, veneers can last up to 20 years.
Porcelain vs Composite Resin
Porcelain veneers last longer than composite resins because of its sturdier composition which does not change in color or stain. However, the trade-off is that a procedure using porcelain takes 2 or more dental appointments to complete. However, the benefits can be worth it as it is not only stronger but also longer lasting at a similar price point. Continue reading to learn more.


2. Who performs veneers?
The procedure can be performed by your dentist. Alternatively, they may refer you to a qualified prosthodontist. Prosthodontics is a specialized dentist who uses artificial substitutes to restore or replace natural teeth and tissues.

In order to become a qualified prosthodontist, a dentist must complete a university post graduate program in prosthodontics.


3. Who is eligible for veneers?
Veneers can cosmetically enhance teeth that are chipped, discolored, broken, or smaller than average.
You will not be eligible for veneers if your dentist finds your teeth to have signs of tooth decay, gum disease, or any other symptoms requiring root canal treatment.
Before choosing veneers, a patient should look at all their options:
Teeth with large chunks missing may be better suited for crowning

Crooked or uneven teeth may require braces before veneer treatment

Teeth with decay, gum disease, or any other issues must be treated before applying veneers

Veneers can be damaged by persons who often clenches or grinds their teeth as a habit


4. How are veneers applied?
Leading up to the procedure, dentists will spend time profiling the patient and learning their specific needs. Your dentist will commission a custom set of porcelain veneers. After the operation, the follow up appointments can take place up to 6 weeks.
Porcelain Veneers
Local freezing may be applied

Remove thin layer (less than a millimeter) of enamel

Create a mold of teeth

Commission custom set of veneers with mold

In meantime, dentist may apply temporary veneers

The temporary veneers are to be worn cautiously until permanent set created

On second appointment, permanent veneers replace existing

Dentist inspects shape, size, and fit of the veneers

They are applied through a composite resin cement (like glue)

The cement is sealed through a bright light (UV light)

The total time of the second appointment is around 2 hours
Composite Resign Veneers
Dentists choose a veneer color that matches your natural teeth color

The dentist applies composite resin in layers

Each layer is followed by a bright light to ensure the veneers attach to your teeth

After the last layer, the dentist shapes and polishes the veneer to match your tooth




---
Related Reading: Do I Need Private Health and Dental Insurance in Canada? [The Truth for Small Business Owners]
---

5. What happens after the procedure?
Veneers require care like natural teeth. Your dentist or specialist will most likely schedule follow ups to ensure that the implants are working as expected.
Veneers require maintenance and care just like natural teeth

Cavities and stains can form underneath the material with incorrect care. They can also occur if the dentist does not properly apply the veneers.

Use caution when chewing, grinding, or clenching your teeth as hard surfaces can damage the material

The treatment cannot be reversed as veneers essentially replaces your enamel

Don't overlook the cost of replacement required


6. How much do veneers cost?
In Alberta, Canada, you can expect to pay anywhere between $500 to $2000 for a single veneer. According to another source, cost can range between $450 and $1800. The cost is dependent on:
Type of veneer material used

The experience and hourly rate of the service provider

Number of veneers needed

Dental insurance or health plans
Above all else, it is best to find a trusted and certified professional. I recommend that you get several quotes before going forward.
For a look at standard pricing on common dental practices, visit the 2019 Alberta Dental Guide for Dental Fees. This pricing guide refers specifically to Alberta, but may share similarities with other parts of Canada and the US.

Fun Fact: The actual porcelain veneers material costs around $100-200 for the dentist


7. How can I fund my veneers?
Veneers are often considered cosmetic dentistry with some restorative aspects because they improve not only the looks of the teeth but also the function. Unfortunately, a majority of health insurance providers do not offer coverage when it comes to veneers regardless of the client's reasoning.
If you are a small business owner in Canada, you can take advantage of a tax plan known as the Health Spending Account (HSA) to claim your veneers. In most cases, a treatment or service performed under a dentist's chair is an eligible expense for an HSA.
Health Spending Accounts turn medical costs like veneers into a pre-tax expense through the business owner's corporation. This can equate to more than 50% in savings. Health Spending Accounts also cover regular dental checkups and many other eligible health-related expenses (licensed massage therapy, physiotherapy, prescription glasses, prescriptions drugs, etc.)
Instead of paying for the medical expense personally, an HSA channels money through your business with the result being a payment using before-tax dollars. It is a 100% legal, CRA-compliant plan that many aren't aware of. It was built specifically to help business owners manage their health and dental costs. In many cases, it is more effective than health insurance especially for a costly event like dental implants or veneers.
If you are NOT a small business owner, you can file these costs under the Medical Expense Tax Credit (METC). It is a non-refundable tax credit applied through your personal tax return.
Determine your personal tax savings through our METC calculator.
Learn more about how an HSA reduces your health and dental expenses:
Sources:
http://www.cda-adc.ca/en/oral_health/procedures/bonding_veneers/
https://www.dentalhealthalberta.ca/wp-content/uploads/2019/02/2019-ADAC-SP-Guide-for-Dental-Fees-merged.pdf
https://www.healthline.com/health/dental-veneers#procedure
Note: Cost predictions are based on North American (Canada and US) dental standards.
Related Reading:
Which Is Better: Invisalign or Braces?
Everything to know about Root Canal Treatment in Canada
What is the cost of Dental Implants in Canada?