A Health Spending Account (HSA) is a viable and cost-effective alternative to health insurance for many small business owners. Instead of paying premiums and deductibles to get coverage, you can save more money by removing the income tax from your medical expenses by paying through your business with an HSA. This health and dental plan deals with tax planning and complies to CRA, therefore, small business owners often ask about implementation and management. Here's a list of the most frequently asked questions that Olympia Benefits receives about the product. It covers information on eligibility, claims, comparisons to insurance, how an HSA works, and more.
Note: The term Health Spending Account (HSA) is also known as a Private Health Services Plan (PHSP).
This article is written for a sole owner (or owner plus spouse) business with no arm's length employees. If you own a business with arm's length employees, read our Top 24 FAQ about Health Spending Account as employee benefits instead.
1. What is a Health Spending Account (HSA)?
A Health Spending Account is an alternative to traditional health insurance. Used by thousands of small business owners across Canada, an HSA is a special account established to exclusively pay for health care services for you and your family members.
An HSA enables a small business to deduct 100% of their family health and dental expenses - without paying standard premiums typically associated with traditional health insurance plans.
The ability to write-off health and dental expenses can create savings of more than 30% on medical and dental related expenses. For contractors, consultants, and other incorporated small business owners, this is an effective tool to cut your taxes and reduce your medical costs.

2. Do I qualify?
You are an excellent candidate for an HSA if you own a business, have medical bills, and pay income tax.

3. How will an HSA in Canada save me money?
An HSA will save you money in three ways:
Tax savings from deducting 100% of your medical costs

Reducing your costs by avoiding high premiums associated with traditional health insurance

The elimination of expensive deductibles and co-payments
Below is an example of a savings comparison between a medical expense paid personally vs. through your business.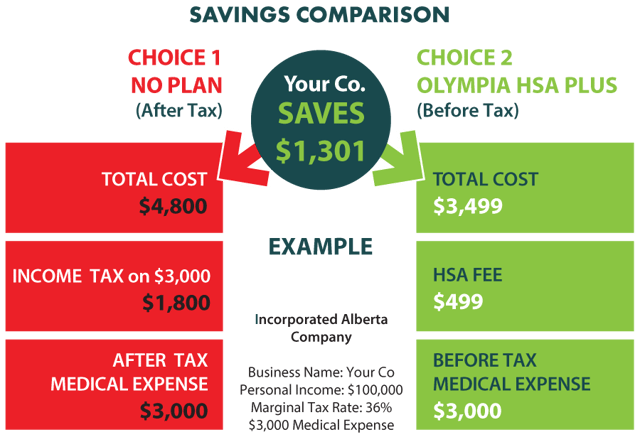 Choice 1 – After Tax (personal medical expense paid for out-of-pocket)
The medical expense could represent a year's worth of uncovered expenses that has been paid for by you, personally, with out-of-pocket after tax dollars. After tax dollars is the amount remaining after personal income tax is paid. In this example's tax bracket, the company will pay $4,800 (including income tax), of which 36% is used to pay income tax ($1,800).
To explain in detail, each $1.00 you spend on medical expenses would require your company to pay you approximately $1.60 before tax. The amount of 36% (or $0.60) is paid in tax to Canada Revenue Agency in the form of provincial and federal taxes.
Choice 2 – Before Tax (medical expense is paid for through your business)
In this case, the medical expense is paid through your corporation as a before tax business expense. Effectively, your business is able to write off 100% of your medical expense. You save money by keeping the additional 36% tax inside your corporation.
The cost of the Health Spending Account (HSA) will vary by provider. In this example, the yearly (total) cost of the HSA is $499. You would pay $499 instead of $1,800 in taxes.
Click here for a more detailed explanation of taxes and medical expenses.


4. Is an HSA effective for an owner/operator/one person business?
See 3 Reasons a one person business uses a PHSP / HSA
This category of business includes incorporated consultants, contractors, and professional corporations. This segment of Canada's business community is overlooked by traditional health insurance carriers as it is difficult and expensive to insure.
Interestingly, an HSA can be most effective for a one person business. The majority of Olympia clients are owner/operator businesses. By using an HSA, you and your family would benefit from a 100% tax deduction for your family medical benefits.
Here are some of the advantages an HSA provides for an owner/operator/one person business:
Deduct 100% of your family's medical expenses

Reduce your personal taxes

Get comprehensive medical coverage for your expenses

There are no premiums

Complement your spousal insurance


Watch the video below to see how an HSA works for an incorporated individual:



5. What types of health and dental expenses are covered under a Health Spending Account?
One of the great benefits of an HSA is the freedom it provides through the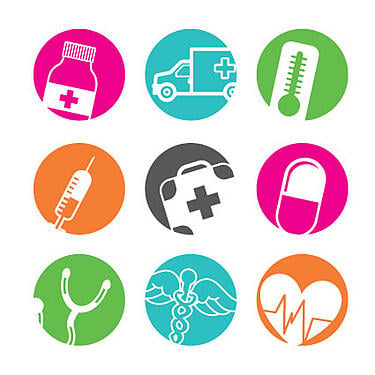 extensive range of eligible expenses.
No restrictions on eligible expenses. You will love being able to claim 100% of your child's dental braces. These types of expenses, along with a thorough list of qualified medical practitioners, procedures, and medical devices help make a Health Spending Account an attractive choice for the small business owner.
Unlike many traditional insurance plans, an HSA offers 100% coverage on a wide range of expenses...even the expensive ones. Does your son need physiotherapy? Does your spouse need a new pair of glasses? Or maybe laser eye surgery? Maybe you want to get an MRI? Rest assured, all of these are eligible expenses with a Health Spending Account.
You can even claim your spouse's premiums if they are a member of a traditional insurance plan. That's right. Premiums contributed to a non-government insurance plan are an eligible expense with a Health Spending Account. How great is that?!
Do you have unpaid portions that are not covered from your spouse's plan? Not a problem - the remaining amount of an expense is eligible with a Health Spending Account. Fantastic.
Prescription drugs, massage therapy, and hearing aids are all eligible expenses too. If you are traveling to the sun on your upcoming vacation...pick up a pair of prescriptions sunglasses so you can read on the beach (the sunglasses are eligible). Sore feet from that long hike or fishing trip? Pay a visit to your friendly Podiatrist as all of their services are eligible expenses.

6. Are my dependants covered?
Dependants are eligible with a few restrictions.

7. How does an HSA compare to a traditional health insurance plan?
There are several advantage of a HSA compared to a traditional health insurance plan. Premiums, expense eligibility, coverage, ease of use, deductibles, and claims are some of the areas an HSA is considered more favorable. Understanding the difference between insurance and administration is critical when deciding on how to pay for your medical expenses.

5 reasons an HSA is better than a traditional health insurance plan:

1. Premium Creep
Traditional Insurance Plan
Monthly premium for coverage, regardless of access or usage to the plan

Monthly premium rate often increased at the annual renewal of the policy (premium creep)

Age of the individual will affect the price of your plan
Health Spending Account
Avoid a premium creep due to usage or age factors

Most Health Spending Accounts have a fixed fee as opposed to a premium

Pay for the expenses you incur, eliminating a situation where you have paid into a program that you did not use.
2. Eligible Expenses and Pre-existing Conditions
Traditional Insurance Plan
Eligible medical expenses are restricted

Items that you wish to claim under this policy may be restricted by an annual or life-time maximum, or require special authorization in order to obtain eligibility.

At the time of enrollment, medical history will be requested and pre-existing conditions may be excluded or reduced from coverage.
Health Spending Account
Expenses are not restricted by type of expense, only on the dollar amount

You will have access to a wider range of eligible expenses

A PHSP / HSA will not restrict or limit benefits due to a pre-existing medical condition
3. Complexity
Traditional Insurance Plan
Under a fully insured program, you will receive a plan booklet outlining the items that are covered, and also the ones restricted or excluded by definition, co-insurance, deductibles, or fee guides. Figuring out your coverage and if it will be reimbursed partially or in full can get complicated.
Health Spending Account
A PHSP is typically only restricted by dollar amount. You will have 100% coverage for all eligible expenses up to your spending account limit. Your account balance is updated by the administrator every time a claim is processed, eliminating the need to keep track of this information manually.
4. Deductibles
Traditional Insurance Plan
Your benefits may be restricted by an annual single/family deductible

Benefits can be restricted by a co-insurance of 50%-80%

There is a limit for the number of visits and treatments.
Health Spending Account
No deductible

You are not restricted by co-insurance

No limits for the number of visits and treatments
5. Claims
Olympia's HSA has a digital claims platform which will process your claim within 24 hours versus many traditional insurance claims that can take more than 2 weeks to process.

8. Do I qualify for an HSA even though I have a pre-existing condition?
Yes, you qualify. Pre-existing conditions do not affect your eligibility for an HSA.

9. How does an HSA claim work?
Pay for your medical expense (let's say with your personal credit card). (Pay provider $1,000)

Make an online claim (enter your expense details, submit the claim, make a payment from your corporation for the amount of your expense). (Pay the administrator $1,000 from your corporation)

The administrator reimburses your personal banking account for the original expense ($1,000)
The payment from your corporation to the administrator is 100% tax deductible. The reimbursement you receive from the administrator is 100% tax free.
See the top 9 FAQ on the claim process.
10. Is there a limit to how much I can deduct?
There are several factors that determine the limits within an HSA. A reasonable maximum benefit level for an incorporated business owner is $15,000 per year. If the business has additional employee, the business owner is able to determine specific amounts for each classification of employee (management, full time, etc).

11. How much does an HSA cost?
Prices can vary across providers and plans. An administrator can charge an upfront setup fee, an ongoing administration fee based on the amount of your claims, a maintenance fee, or sometimes these fees are replaced with a fixed annual fee.
At Olympia Benefits, we use this pricing model.
12. Can I set up and administer an HSA myself?
Strict guidelines and conditions are required to qualify an HSA and ongoing knowledge is required to properly adjudicate claims. In exchange for a small fee to a provider, you can be worry free that your HSA qualifies with CRA and focus your time on your business and more important matters.
Moreover, what happens if you are audited and there is a problem with your plan? Having a third party administrator gives you an added layer of protection and signals your HSA is in the hands of an expert that is well equipped in the specifics and intricacy of this financial product.


13. What can I give my accountant?
Although straightforward to use, an HSA does require proper explanation and understanding before it is adopted by any particular small business. An HSA directly involves matters of taxation and ultimately some small business owners speak with their accountant for clarification. You can forward this article and guide to your accountant for review.


14. Are Health Spending Accounts legal? Given they involve taxes, does it comply with Canada Revenue Agency?
Yes - an HSA is legal in Canada - as long as the guidelines are properly adhered to. To properly satisfy the conditions set forth by CRA, make sure you choose a reputable HSA provider and understand what you are purchasing.


15. When will my HSA become effective?
Effective dates for HSAs are an important component for CRA eligibility. An HSA is effective immediately on the day you join and cannot be backdated to the beginning of your fiscal year. There are no waiting periods.


16. How long has the HSA been available to Canadian businesses?
The HSA has been available since the 80's. Olympia Benefits is a pioneer and largely responsible for the initial marketing and promotion of the concept to Canada's small business community. Since 1996, Olympia has been marketing and administering Health Spending Accounts


17. Are there different types of Health Spending Accounts?
Once you get past all the marketing, an HSA is a contract. Specifically, it is a contract between an employer (a business) and an employee. The conditions of the contract should outline the relationship between the employer, employee, and the administrator. So in that sense, all Health Spending Accounts (HSAs) are the same.
However, there are some key conditions that will affect the HSA. Are there arm's length employees? What type of compensation does the owner receive (dividends)? Are the employees part time? As a plan with tax planning components, an HSA adapts to the company structure.


18. How do you select an HSA provider?
For the most part, HSAs are marketed and administered by reputable firms with a proven and documented track record. Unfortunately, the industry is unregulated and there are no barriers to entry. Make sure you dig beneath the surface and find out the warning signs of a HSA provider that is cutting corners.


19. Why are HSAs less common than insurance?
Large providers of traditional health and dental insurance in Canada are very adept at marketing. In fact, they are so effective at developing and delivering targeted messaging that many small Canadian business owners firmly believe that purchasing traditional insurance is a must to effectively protect themselves and their families. The truth is that there are viable alternatives to insurance. Keep an open mind!
A Health Spending Account is a tax plan in the nature of insurance. It feels like insurance since it deals with medical costs. The critical difference however, is that by paying for medical expenses through an HSA, you are self-insuring. There are significant advantages to paying for medical expenses through a tax plan instead of an insurance plan.

Ready to sign up? --> Sign up instructions for your HSA
Related Reading:
How does a health care spending account work?
Write off 100% of your medical expenses
Are you an incorporated business owner with no employees? Learn how to use a Health Spending Account to pay for your medical expenses through your corporation:
Do you own a corporation with employees? Discover a tax deductible health and dental plan that has no premiums: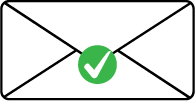 Subscribe to the blog